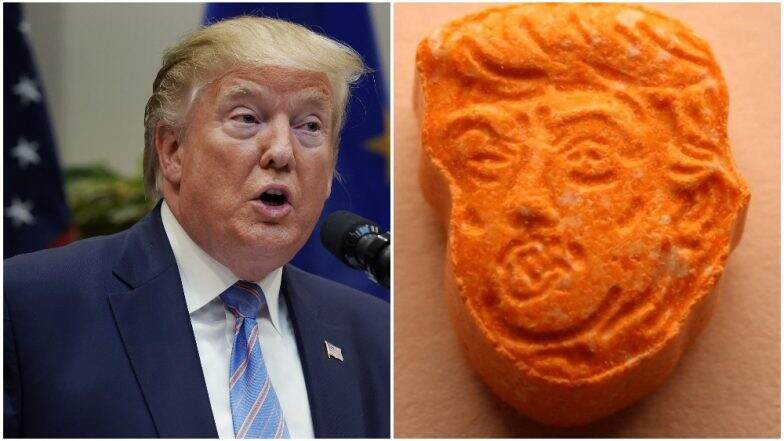 A Florida man has been arrested for possessing ecstasy pills shaped like the United States President Donald Trump's face. The 23-year-old man had five orange tablets which looked like the 45th's President of America with 'Trump NL' written alongside six stars. On Friday, Dolan-King was arrested after cops reached his home in reference to a drug overdose following a police complaint. The Clearwater Police found the MDMA pills inside an air vent of his apartment.
Later, authorities determined that Dolan-King 'was possibly the person to provide the victim of the overdose with the heroin that he overdosed on'. He was also charged with drug possession. According to The Smoking Gun, Dolan-King is the native of Long Island who is currently serving an 18-month probation sentence after being convicted last year for possession of cocaine and marijuana. In February 2018 he was arrested for possession of ecstasy pills in the shape of Dart Vader. According to a police report, the suspect showed an "indication of drug influence" when he was taken into custody. He is being held on a USD 2,000 bond. Drugs Smuggled Into UK Jail in 'Harry Potter and the Goblet of Fire' Book's Pages.
Trump-shaped ecstasy has been in the news previously too. The carrot-coloured ecstasy tablets had risen to popularity shortly after Trump became the President of the United States in 2017. An Indiana State Police had seized a huge amount of 'Trump-shaped ecstasy pills' last year. The tablets had the words 'great again' and 'Make America Great Again' written on it. Traffickers use uniquely shaped drugs as a marketing technique to attract buyers. Cops have seized Trump-shaped tablets from various countries in the past.