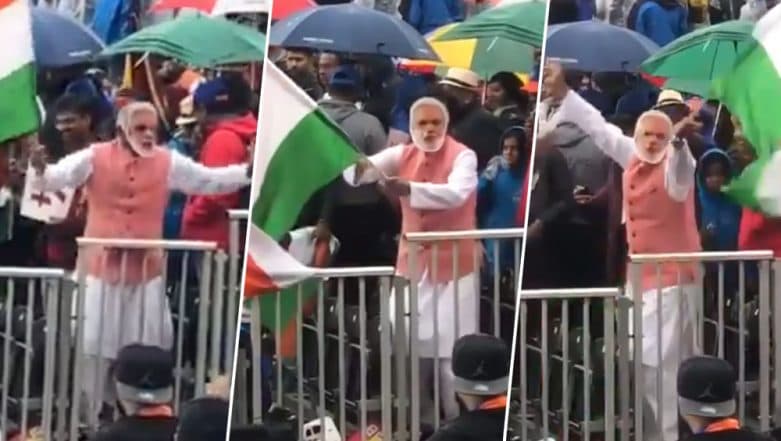 While the ICC World cup 2019 is in full swing now, especially with team India performing so well, Indian fans cannot keep calm! Various videos, photos, memes, gifs, images, statuses and posts related to India's performance in the ICC cricket world cup 2019 is going viral, the internet has suddenly become a more fun place! Recently we saw the Pakistani fan's "Kal Raat Ye Log Burger, Pizza Kha Rahe The" rant sweep the internet now we have an Indian fan's video from the audience of seemingly an on-going match do rounds on the internet and HOW! This man can be seen dressed up as PM Narendra Modi with the whole Modi Jacket and white kurta, wearing a paper Modi mask and dancing his life out on a Pakistani song "Nach Punjaban." The video is winning hearts on the internet and will make you have a hearty dance right after watching the video. From 'Kal Raat Ye Log Burger, Pizza Kha Rahe The' to Sarfaraz's Yawn, Pakistani Fans Troll Their Own Team After Humiliating Defeat Vs India in ICC CWC 2019! Watch Viral Videos.
Take a look at the video of "Narendra Modi" dancing during a match:
People are totally loving and trolling the video, Modi fans just cannot keep calm. "Wow this video changed my life.. Thanks for sharing," someone said in the comments section. Another one also commented,"Bass kal se yeh song search kiye ja raha hoon abhi tak mila nahi ...Please anyone," For all who don't know, this is a song called "Nach Punjaban."
Here's the video of the song "Nach Punjaban" :
While it is not clear from which match has this video been taken, it looks like it was taken from India Vs Pakistan match held on the 16 June 2019, Sunday which team India won by 89 runs via DLS method.