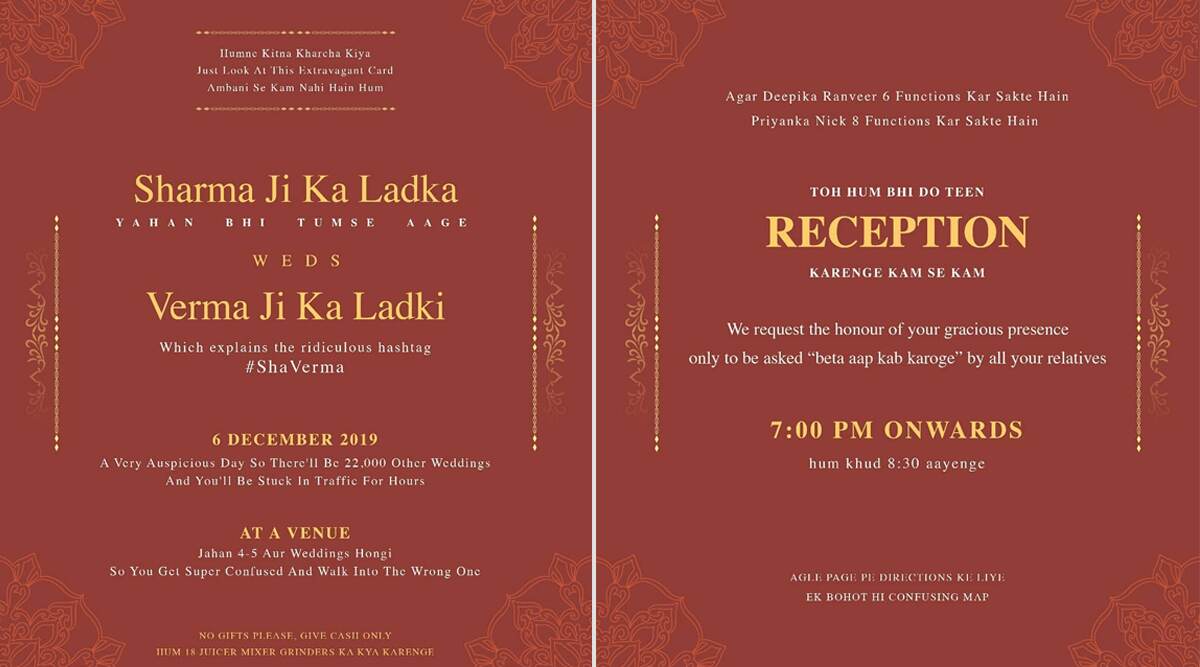 We have grown up our parents always comparing our scores to 'Sharma Ji ka Beta'. It is because of that torture that millennials did what they best could—make hilarious memes. Social media is filled with 'Sharma Ji ka ladka' funny jokes and images, poking fun at how Indian families behave with their children. But the forever favourite joke of desi internet users has been upgraded a little! Comedian Akshar Pathak made an 'honest' wedding invitation card which will forcibly live you in splits. Poking fun at the prominent clichés, especially in any North Indian wedding, Pathak's parody invite captures essential aspects of an Indian wedding. From the family surnames (Sharma and Verma) to extravagant ceremonies and senseless expenditure, the 'honest' wedding invitation has people laughing out loud. The pictures have since gone viral on social media. These Funny Indian Wedding Dance Videos are Equally Entertaining as Dancing Uncle- Sanjeev Shrivastava. 
The wedding invitation card features the two families—'Sharma Ji ka Ladka' weds 'Verma Ji ka Ladki.' It takes a jibe at the craze of increasing hashtags, which in this case is 'ShaVerma.' Just beneath the groom's name, the card reads, 'Yahan bhi tumse aage.' Did you get the pun? The invitation card also pokes fun at the grand Ambani wedding, Ranveer-Deepika and Priyanka-Nick nuptial ceremonies—all of them combined confirmed that Sabyasachi is the only Indian bridal designer. Eco-friendly Wedding Cards: Kerala MLA's Daughter Wedding Card Can be Sown to Grow Trees!
The postscript also stated, 'No gifts please, give cash only!' We all can so relate to it! And the third page wins the hearts as it rightly portrays the map of the wedding venue that no one on earth can ever locate.
Here Are the Pics Honest Indian Wedding:
View this post on Instagram
As Pathak's wedding invitation card has gone viral, there was a laughing riot on the internet. Netizens could not relate to it more. Some even listed things that the comedian has missed to add in the card.
Totally!
Nailed it! https://t.co/5pLNCNYJCM

— Anchal Sood (@AnchSood) November 12, 2019
Here Comes the Suggestions:
Saath mein menu chaap toh easy hota decide karna https://t.co/Ph08UhEvOY

— Joruto Jozumaki (@Eddysirsat) November 11, 2019
LOL:
Thanks for providing template for my sister's wedding. 🌚

Regards,

Verma Ji ka chota ladka

— Shashank Verma (@iVermaShashank) November 11, 2019
Very Very Important!
Apne naam ke aage likho na: CA/Engg/ LLB /MBA + mention yours CTCs and online followers as well! 😁

— Nishtha Gehija (@nishthagehija26) November 11, 2019
Pathak is a pass out from NIFT Delhi and currently works with Zomato. He was previously associated with AIB. We must say, this desi wedding invitation card could not serve any better. Besides, the joke seems to have come at the right time, considering it is the wedding season in India and you will at least get two invitations.