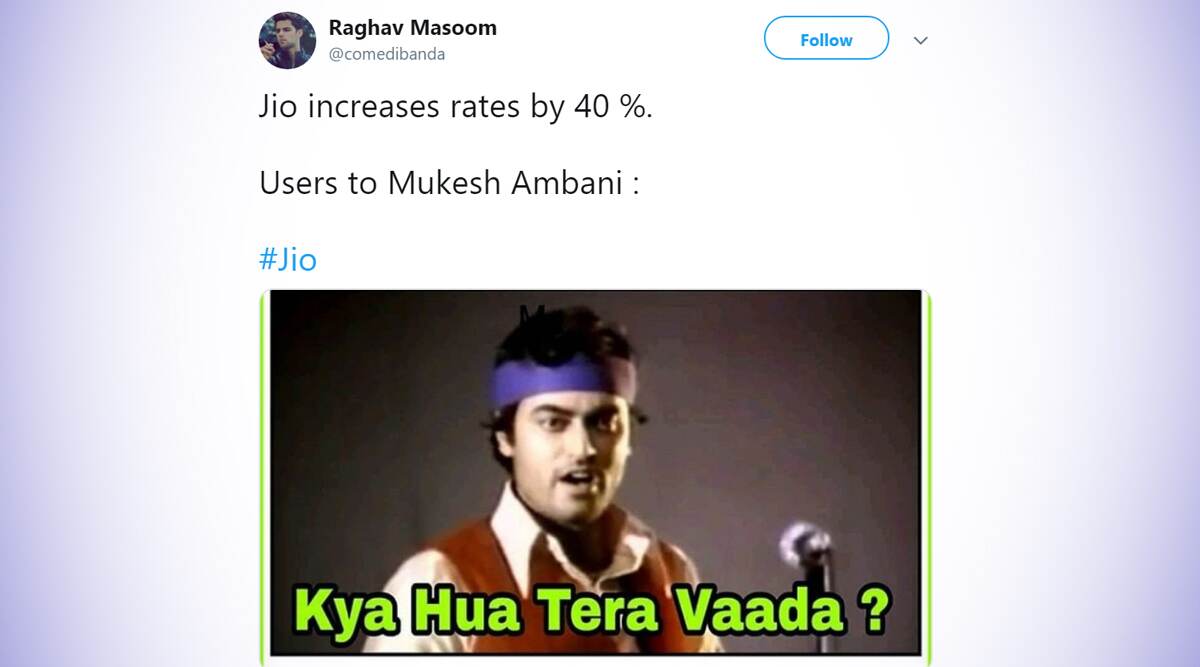 If you were among the ones to bank on the huge discounted mobile tariff rates of Reliance Jio, then you must by now considering switching to another network. Telecom companies like Vodafone Idea, Bharti Airtel and Reliance Jio announced almost 40% increase in their tariff rates. Jio said their new all-in-one plans will be in effect from December 6. As the rates are set to increase again, the subscribers are definitely not happy. The unpleased reactions have come upon the internet in the form of funny memes and jokes. Since last night, funny memes on Jio's rates are trending on social media. Switch to BSNL Trends on Twitter With Funny Memes and Jokes Being Made on Reliance Jio!
Jio, after offering free calling and data usage for months, made the first announcement of calling charges in October. They announced they would charge their customers 6 paise per minute for voice calls made on other networks. Customers were unhappy back then too and now with almost a 40% rise in prices, the feeling continues. And one of the quickest reactions people have these days are making funny memes and jokes on it.
Check Funny Memes on Jio Rates Price Hike:
Ambani Y U Do Dis?
Jio increases rates by 40 %.

Users to Mukesh Ambani : #Jio pic.twitter.com/vfGTkTvw6L

— Raghav Masoom (@comedibanda) December 2, 2019
Kya Karenge?
*Jio increasing mobile service rates upto 40%*

Public to Ambani: pic.twitter.com/I5rpAqD2To

— رومانا (@RomanaRaza) December 2, 2019
This Dialogue Never Gets Old
Jio increases rates by 40%

Customers to Mukesh Ambani: pic.twitter.com/XOrRPtlRT9

— Bollywood Gandu (@BollywoodGandu) December 2, 2019
Too Much Change
Jio increase rates by 40%

Customer to Mukesh Ambani : pic.twitter.com/1GQaQzRh19

— _A_Girl_With_Memes_ 🌹 (@Aparna_Rajput_) December 2, 2019
Jio Users Now...
Mukesh Ambani increasing JIO's service rates by 40%

Le Jio users : pic.twitter.com/3awvQNmN89

— देसी Billie (@PentiumChar) December 2, 2019
While it is not just Jio that has announced the price hike, people seem to be more loyalists of this network, more so because of their extremely cheap and affordable schemes.
Here's a Tweet Summing Up All Call Rate Hike:
Vodafone, Idea, Airtel and Jio all 4 are going to increase mobile service rates by up to 40 percent. Hum log charo taraf se ghir chuke hai.

— BaBu 🇮🇳 (@BabuSaheb90) December 1, 2019
These price hikes come after three years and amid the acute financial stress, the sector is going through after a Supreme Court ruling on adjusted gross revenue. It is expected that the new plans will also provide better services.