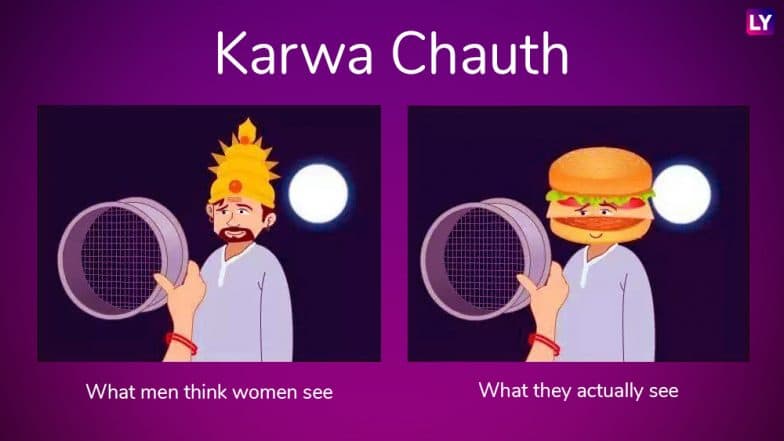 Today marks an important day especially for the Hindu married women who will be celebrating the festival of Karwa Chauth. The Karva Chauth is a fasting done by married women especially in the Northern states for their husbands. They keep a day-long fast for the long life of their husband. They break the fast only after moonrise by performing a puja We have seen this festival being depicted in several Bollywood movies and also TV serials. Now, over the years, the festival also has some jokes and memes made on it. With so much so in pop-culture that even memes and jokes have been associated to it. Karva Chauth memes and jokes are widely shared on social media and you can share them with your married friends. Karwa Chauth 2018 Greetings for Your Loved One: Best WhatsApp Messages, GIF Images, Facebook Status, SMS to Wish Happy Karva Chauth. 
The festival of Karva Chauth is celebrated by women in the Northern states of Punjab, Uttar Pradesh, Madhya Pradesh and Rajasthan more popularly as compared to other ones. While women are dedicated to following the fast and eagerly wait for this day, the internet has its share of entertainment to offer. Memes and jokes have become the order of the day, so it is no surprise that people have been sharing some on Karwa Chauth too.
Check Some Karwa Chauth Jokes and Memes
Women by the end of the day on Karwa Chauth
#Karwa_Chauth be like🤣🤣😝😝

Download #Bobblekeyboard for more #memes- https://t.co/YqQOrgdDlJ pic.twitter.com/lwUU7DXvLy

— Bobble Keyboard (@BobbleKeyboard) October 8, 2017
Food is love, always!
What womens actually see😂😂🤣🤣#Karwa_Chauth

Download #Bobblekeyboard for more #memes- https://t.co/YqQOrgdDlJ pic.twitter.com/ZfqdUFbJ1R

— Bobble Keyboard (@BobbleKeyboard) October 8, 2017
#Karwachauth: When foodie women give up their first love (food) for their second love (a guy).

— Shuchi Singh Kalra (@shuchikalra) October 8, 2017
And Only For Friends too!
Me: Would you do Karva Chauth Vrat for me?

She: Yes, But as a friend only.#karwachauth

— maddy (@innocent_bandaa) October 26, 2018
Legends Keeping Karwa Chauth be like
Pic 1- Kid

Pic2- Adult

Pic3- Legend

Pic 4 - Ultra legend #KarwaChauth pic.twitter.com/blpEypEf6P

— Woke Halua Babuwaski 🌷 (@GaurangBhardwa1) October 8, 2017
Best Karwa Chauth Memes Funny Jokes Trolls Images & Pictures 2017 https://t.co/WrSonXfGOK pic.twitter.com/BnFbzikLlX

— Doonedin (@doonedinJobs) October 7, 2017
The Result of Karwa Chauth
Result of #KarwaChauth pic.twitter.com/injnvmpgqS

— Hunटरर ♂ (@nickhunterr) October 27, 2018
Reminding of cliches
Stay hungry, Stay foolish #SteveJobs #HappyKarwaChauth pic.twitter.com/gHXIQ2ZVQj

— Deepak Dhar (@deepak30000) October 8, 2017
#Karwachauth #Laughter dose pic.twitter.com/xXxX2jqFlR

— Batuni Basanti (@BatuniBasanti) October 26, 2018
These are some of the funny takes on the festival that has long been celebrated by Hindu women. Are you too planning to keep a fast on this Karwa Chauth? And if you know any other Karwa Chauth jokes and memes, then do share them with us in the comments section.