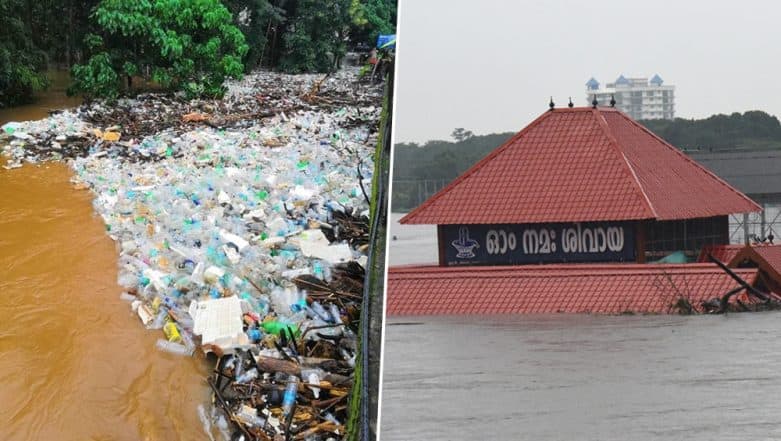 The monsoon rains have created havoc in the country with several states braving a flood-like situation. Maharashtra, Gujarat, Karnataka, Kerala are all lashed with severe rains. While the loss caused by the rainwater flooding is shocking, a picture of a road in Kerala's Palakkad region flooded with plastic is going viral on social media. Time and again, year after year whatever plastic we dump into water sources gets returned to us. IFS officer Parveen Kaswan shared a picture of the road flooded with plastic waste and aptly titled it 'Home delivery.' The picture is now going viral on social media, once again highlighting the vain efforts of all awareness regarding plastic pollution.
Meanwhile, a similar situation of plastic being returned back to the shore has also been seen at Mumbai's famous spots, Marine Drive. After heavy rains in the last two weeks, the high tide threw out literally waves of plastic waste out on the shore. Pictures and videos of the waste accumulating on the footpath were shared on social media. The picture from Kerala is also a similar reiteration.
Check Kerala's Road Covered in Plastic Waste After Rains:
Home delivery !!

The view is from Palakkad, Kerala. Water returning back the favour & all the plastic we gifted it. Plastic is forever. pic.twitter.com/US3198spvE

— Parveen Kaswan, IFS (@ParveenKaswan) August 11, 2019
People on social media also agreed on how its karma returning what we have done. Check some of the reactions on the viral picture.
Mother Earth's Patience is Tested
When mother nature decides to take revenge.

Even a mother's patience also has a threshold.

KARMA!

— aishwarya palagummi (@APalagummi) August 11, 2019
Nature Gives it Own Medicine
So nature give us a taste of our own medicine. Nice

— Akash Pandit (@Akashp87) August 11, 2019
Return gift
This is a return gift

— Deepak Pawane (@deepak_pawane) August 11, 2019
Nature will change you
If you can't change, then nature will change you.

— Easternguy (@Easternguy143) August 11, 2019
People shared the same sentiment that we are destroying nature collectively and nature is giving it back to us. An exact same case of plastic being thrown upon the roads was seen even last year, around the same time. One of the bridges in the state was entirely covered in large amounts of plastic after the floodwater receded. A situation like this arising year after year is indeed a shameful thing and rather than pointing out, each one of us is accountable to it at some point. We need to act very responsibly with regards to plastic waste and stress on recycling efforts as much as we use it.