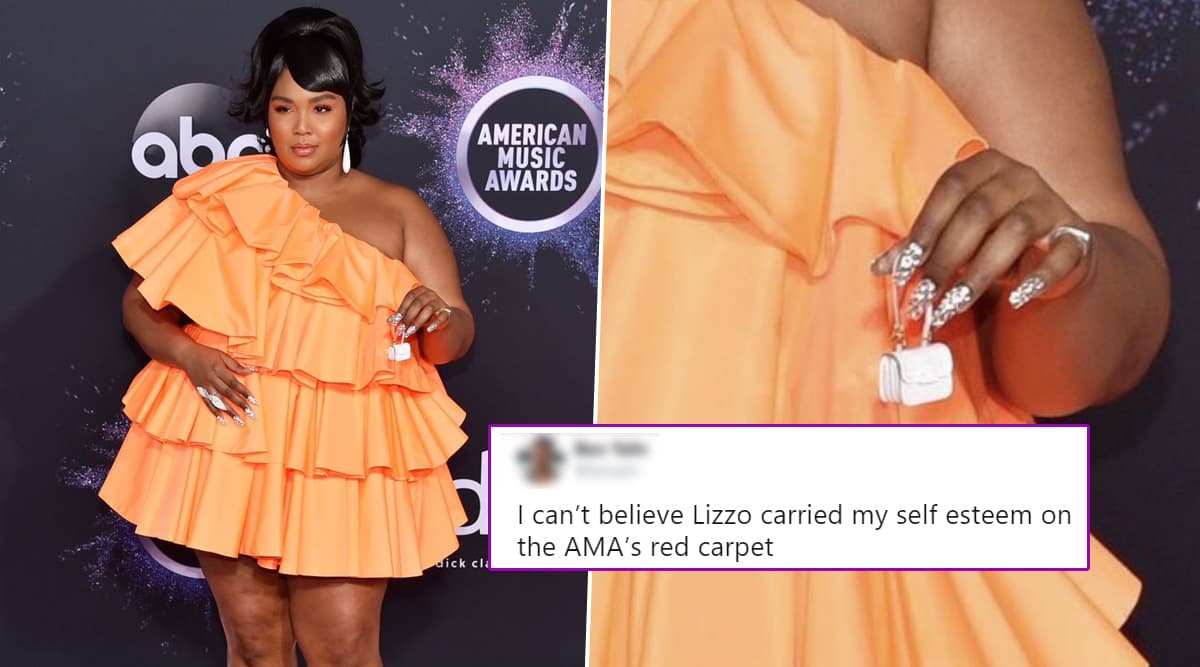 The American Music Awards 2019 were held in Los Angeles on Sunday, November 24 and other than the winners, all eyes were on the fashion outings of the celebrities. The red carpet appearances are always the talk for the fashion police. Fashion outings aside, this time American singer Lizzo grabbed eyeballs for her very tiny purse that she carried at the award function. Picture of her really tiny purse quickly made on to social media and inspired some funny reactions from Twitterati. These pictures are now going viral on social media, thanks to the many funny tweets on them. So Lizzo may not have taken any big awards home but she managed to garner all the attention with her stunning appearance. American Music Awards 2019 Red Carpet: Selena Gomez, Dua Lipa, Taylor Swift and Others Slay in Their Stunning Avatars (See Pics).
Lizzo was nominated for New Artist of the Year, Favorite Female Artist in the Soul/R&B category and Favorite Song in the Soul/R&B category. For the event, she wore a one-sided off-shoulder orange frill dress. But she rocked it with her accessory, the tiniest purse too well. The white-coloured tiny purse had some users asking what she would be carrying in there, while others chose to answer them on their own, with funny reactions, of course. Micro Handbag, Smaller Than Your Credit Card Launched at Paris Fashion Week 2019 Is Taking the Internet by Storm and TBH We Can't Stop Laughing at the Memes.
Here's a Picture of Lizzo's Dress and Her Tiny Purse at AMA 2019:
View this post on Instagram
The pictures were soon up on Twitter too. Check how some of the users reacted to her tiny purse.
How of You Can Relate?
Me holding all of the f*cks I have to give near & tight in case of an emergency: #AMAs @lizzo pic.twitter.com/XdITzl0bxr

— Kamie Crawford (@TheRealKamie) November 24, 2019
Attacc!
lizzo brought my life savings to the #AMAs! pic.twitter.com/jTvKsWWkZL

— PAPER Magazine (@papermagazine) November 24, 2019
How Taylor Swift and BTS Were Supported
Lizzo carried the amount of support Taylor Swift received from male musicians this year #AMAs pic.twitter.com/h3TUiLVFEU

— Ryan Schocket (@RyanSchocket) November 24, 2019
Lizzo carried the amount of support BTS received from international award shows this year #AMAs pic.twitter.com/j83KfNsgA9

— 사라•Sarah (@SarahJaneCheeky) November 24, 2019
Monday Motivation?
lizzo carrying the amount of motivation I have left to make it through the rest of this semester: pic.twitter.com/FoIE15h3Gk

— brittany (@mogirlprobs) November 25, 2019
Fitting in Energy
Lizzo came holding the amount of energy I got left to give into this school year. #AMAs pic.twitter.com/7nyEhUgYKg

— Marcie Bacchus (@bacchus_marcie) November 25, 2019
Oops
Can't believe Lizzo brought my patience with men to the #AMAs pic.twitter.com/DlIMAkDBP0

— Dylan Miettinen (@DylanMiettiNews) November 25, 2019
Meanwhile, if you are curious what Lizzo carried in her purse, she gave quiet a reply to that question.
Check Lizzo's Revelation About What's In Her Tiny Purse:
Lizzo's purse > other purses pic.twitter.com/snopyH2ihh

— The Cruz Show (@TheCruzShow) November 25, 2019
Not to miss out, there is only three in the world of this Valentino bag. Her appearance has also inspired a lot of others about how she confidently strides on the red carpet. Her performance of Jerome where she put in a lot of emotions and passion also won hearts on social media.