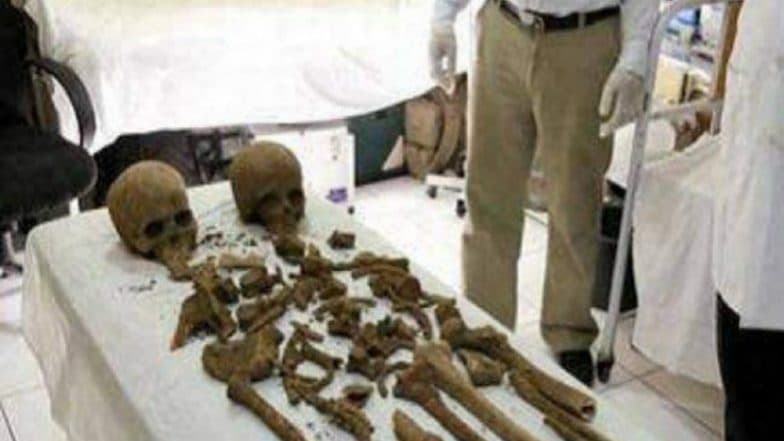 Rome, September 13: The "Lovers of Modena", a pair of people buried centuries ago side-by-side with hand-in-hand, were both men, researchers revealed. They were buried between the 4th and 6th century AD near Modena in northern Italy, where their bones were discovered in 2009. The scientists could not determine the gender of skeletons in 2009 because of the poor state of the remains.  Italy: Goddess Head Made of Marble Unearthed by Archeologists in Rome.
But a new method developed by a group of researchers from the University of Bologna, using the protein on tooth enamel revealed their sex. According to researchers, the two adult males were deliberately buried with their hands intertwined. The scientists published their study on Wednesday in Scientific Reports. Turtle Graveyard in Indian Ocean! Spooky Skeletons of Sea Turtles Found in Underwater Caves in Malaysia (Watch Video)
Lovers of Madena: Handholding Skeletons
Gli "amanti di Modena" erano due individui di sesso maschile https://t.co/srBubjLlmJ pic.twitter.com/TvD0RYkb9J

— UniboMagazine (@UniboMagazine) September 11, 2019
Author Federico Lugli told Italy's Rai news website that the skeletons are siblings, cousins or soldier who died in the battle together. Researchers also suggested that their discovery site could be the war cemetery.
"In the past, several graves were discovered with pairs of individuals lying hand-in-hand, but in all cases, it was a man and a woman. What the connection was between the two individuals in the Modena burial remains a mystery for the moment," Lugli said.
The discovery of individuals buried holding hand in nothing new. "The Lovers of Valdaro", a  couple who died 6,000 years ago were discovered in Italy's Mantua. And other male-female couples have been found in Greece, Turkey and Siberia.