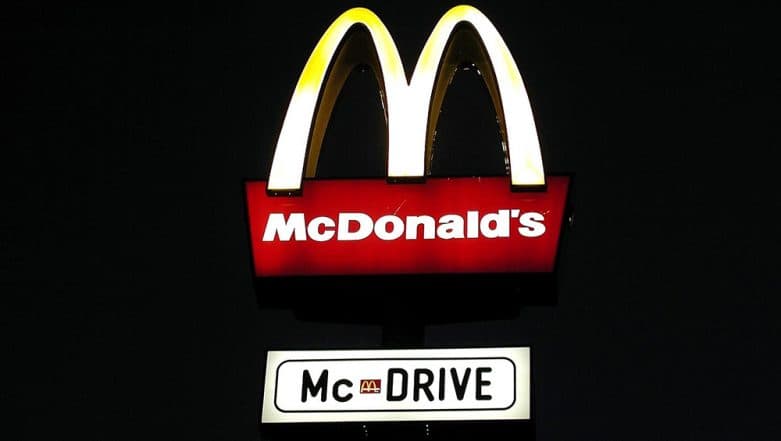 If you love eavesdropping or love listening to gossips then a recent conversation of McDonald's employees talking with the mic on is being shared on Twitter. The ordering microphone in the drive-thru of the fast-food chain was accidentally left on and a customer got some gossip among the employees. A two-minute clip has been shared which has one employee complain about some friend who owes her money, and other one refusing to clean on her day off. The conversation is now going viral on Twitter. McDonald's Fires Employee Who Used Racial Slur Repeatedly at a Black Customer in Florida; Video Goes Viral.
It is an ambiguous conversation that is recorded among the employees but gossip mongers are loving to get a piece of it. A female-voice talk about some Britanny who she has given $20 as she could not pay her phone bill. The staffer later mentions that while Brittany did return her $10 she still owes her other friends money. Before that one lady is heard complaining that she would not be cleaning up on her day off "unless it's at home." New Zealand Hunter Goes to McDonald's With a Dead Deer on His Shoulders, Bizarre Video Goes Viral.
Check the Conversation of McDonald's Employee:
A McDonald's employee working the drive thru accidentally left her mic on and said a bunch of things she probably shouldn't have pic.twitter.com/dORDGK3HDC

— Someone's An Idiot (@SomeonesAnIdiot) July 22, 2019
The video clip has over three million views. While some saw nothing interesting in it, some others want to know what happened next. Check how Twitter reacted.
Aunt is that you?
The crazy thing about this is this woman sounds exactly like my aunt and she has a daughter named Brittany who smokes to🤔

— SeniorElijahSon🐝🐝🐝 (@PAPAmoist18) July 22, 2019
We need an update
@McDonalds we need the rest of the story!

— 🍑 Blue in TX 🍑 (@VoteBlueNow) July 25, 2019
How Brittany be like...
Brittany gonna be like....😂😂😂 pic.twitter.com/wu7TbJ0KDL

— Shawnee Sometimes 💙 (@nikkiaspen777) July 23, 2019
Now you get it?
I'm thinking back to all those times I just sat there waiting to place my order. This is what the hell's been going on??

— Tosh (@Tosha_36) July 25, 2019
No worry for the delay
Her: "I apologize for the delay, how can I help you?"

Me: "It's no problem I know how Brittney can be sometimes."

— Jordan (@2ndTag) July 22, 2019
The McDonald's employee soon realised that the mic was left on and then apologised to the customer for the delay. But we are sure, he did not mind the delay at all as he got some scoop at least for the internet.