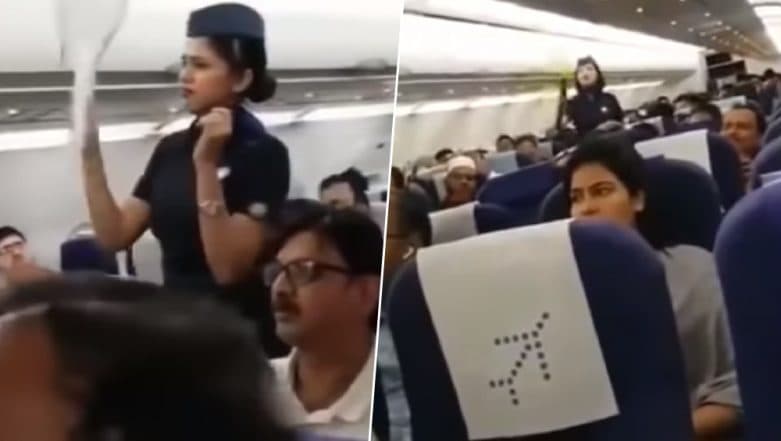 Flight travel is not really convenient but at least you are assured of reaching the destination quickly. While the problem of leg space is too common, imagine being hounded by blood-sucking mosquitoes while on a flight? That'd be a nightmare. Passengers of IndiGo flight recently had the same experience of mosquitoes in the flight at Dhaka airport. A video from the same flight was shared on social media and is going viral. IndiGo acknowledged the problem and said they keep mosquito bats or squatters to tackle them. After IndiGo Woes, Passengers Swat Mosquitoes on a Jet Airways Flight at Lucknow Airport: Watch Video.
The IndiGo flight was headed from Dhaka to Kolkata. The video from the flight shows the air hostesses holding the mosquito killer bat and waving around swatting the insects. The passengers were visibly annoyed and seen fanning themselves with newspapers to keep the mosquitoes away. It is sure annoying and raises questions about the flight's cleanliness. Mosquito Bites: Their Saliva Can Affect Your Immune System For a Week.
Watch Video of Mosquitoes in IndiGo Flight:
A person tweeted the same video and asked IndiGo about the issue, to which they replied that they do acknowledge and take preventive measures to reduce passenger discomfort.
Check IndiGo's Reply to the Problem of Mosquitoes on Plane:
Subbu, we acknowledge this issue. While insects/mosquitoes can't be completely guarded against, we take preventive measures like regular spraying of insecticide & placing mosquito repellent patches to minimise the discomfort. 1/2

— IndiGo (@IndiGo6E) March 26, 2019
In exceptional circumstances, we also use mosquito bats to remove the mosquitoes. 2/2 ~Kritika

— IndiGo (@IndiGo6E) March 26, 2019
This is not the first time the airline has experienced this problem. Back in April 2018, when a doctor from Bengaluru experienced similar discomfort of mosquitoes and even raised a complaint. But when he got into an altercation with the flight staff he was deplaned by them for using 'threatening language.' But later the airlines were made to pay money to settle the dispute of these complaints. From the month of May last year, the airline service had decided to get mosquito swatters on planes to deal with the problem. There have been a number of times when passengers have complained about the mosquito problem.