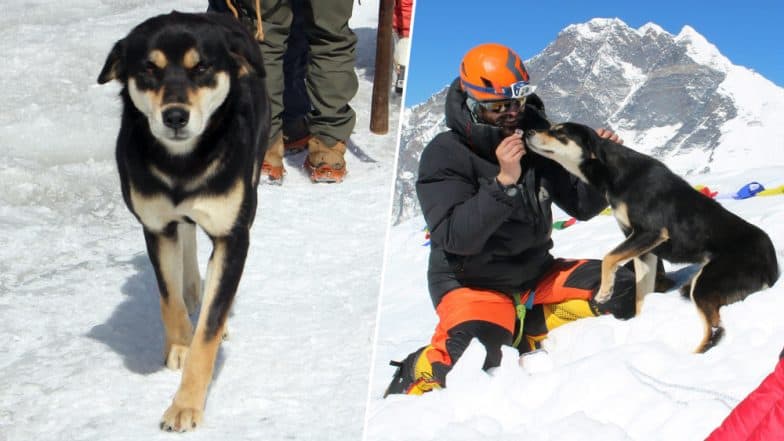 A stray dog climbed the Himalayas along with an expedition team making the highest record ever made by a dog. The mutt befriended a mountaineering expedition and managed to reach the peak of Baruntse mountain at 23,000-foot. Don Wargowsky who was leading the group from the Kathmandu-based Summit Climb saw Mera and they instantly became friends. The canine is believed to be a Tibetan mastiff and Himalayan sheepdog cross.
Mera climbed the mountain with them for the next three weeks and reached the summit on November 9, 2018. Sherpas generally consider dogs as good luck and Wargowsky said that he was surprised that the animal joined them. Daily Mail quoted Wargowsky as saying, "They'd never seen anything like this happen. They said she was a special dog, that she brought luck to the expedition. Some even thought she was blessed." Cute Little Bear Cub Struggling to Climb a Snow Mountain With Watchful Mother on Top is Going Viral, Watch Motivating Video.
Meet Mera:
Billi Bierling of the Himalayan Database, an organization that documents climbing expeditions in Nepal said, "I am not aware of a dog actually summiting an expedition peak in Nepal. I just hope that she won't get into trouble for having climbed Baruntse without a permit."
Dogs often hang out at Everest Base Camp and follow climbers upto Camp II, however, Mera's was the highest record. Mera even spent two-days in freezing weather on her own.
She walked through the terrain easily and descended successfully. Now, the expedition's base-camp manager Kaji Sherpa has adopted the dog and renamed her as Baru after Baruntse peak. Wargowsky said that she was quite confident while climbing and also ran ahead of him to reach the summit. He said, "I have no clue if she'd been up there before, but she seemed very confident in what she was doing."