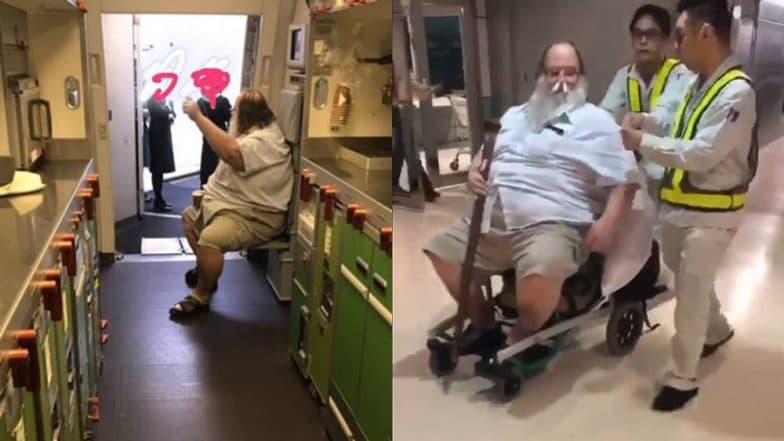 In a shameful incident, a man on Taiwanese airline EVA Air forcefully made a flight attendant wipe his backside. On Saturday, the man who was onboard a long flight from Los Angeles to Taiwan's Taoyuan Airport made a slew of demands, some of which were outright indecent. After boarding, the wheelchair-bound overweight passenger demanded three adjoining seats in economy class citing his size.
As the plane was not full, the demand was fulfilled. Later he said that he couldn't fit into the toilets in economy class and needed to use the one in business class. On Monday, one of the flight attendants, known only by her last name, Kuo, held a press conference along with members of Taoyuan Flight Attendants Union where she revealed the details of the incident. The incident garnered massive social media outrage after Jeff Lin posted about the incident on Facebook. Man Masturbates on United Airlines Flight, Attendants Make Jokes After Female Passenger Complains! Watch Video.
Here is the Facebook post:
Inside the business class toilet, he ushered a flight attendant asking her to remove his underwear saying he couldn't use one of his arms due to an injury. Explaining the ordeal, Kuo said, "I told him we couldn't help him, but he started yelling. He told me to go in there immediately and threatened to relieve himself on the floor. As the passenger's genitals were now exposed, one of my colleagues brought a blanket, which I used to cover his modesty. But he very angrily slapped my hand away, saying he didn't want it and only wanted me to remove his underwear so he could use the toilet." Air India Cabin Crew Abused by Foreign Passenger on Being Refused Wine; Watch Video.
He called the flight attendants again after relieving asked them to wipe his butt. With all-female flight crew on board, they did not have a choice but to comply with the man's demands. They were further humiliated when the man moaned as the head flight attendant cleaned his ass. After she finished, he said that he had not done it properly and asked her clean again. She was asked to clean three times after which he said, "You can pull my pants back up now."
In the post, Lin says, "He did not need the assistance, because he rejected the same assistance when offered by a male crew member upon landing." On Tuesday, EVA Air responded to the incident saying that it took the "safety and wellbeing" of its employees "very seriously." The airline said, "Our cabin crews are NOT required to assist passengers in use of lavatories, feed them or administer medications." Taoyuan Flight Attendants' Union has suggested either to ban passengers like him and to otherwise start hiring male cabin staff.