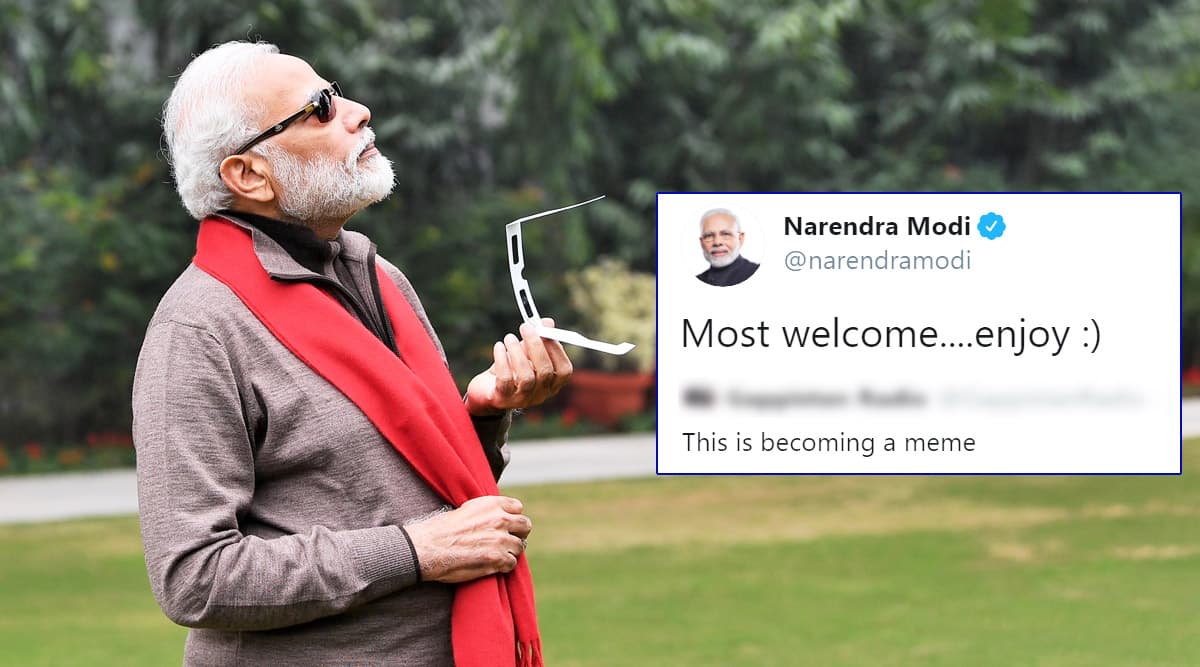 The world saw a beautiful celestial spectacle of the Annular Solar Eclipse 2019 this morning. Indian PM Narendra Modi also enjoyed watching this beautiful celestial event and pictures of him enjoying the view were shared on social media. The pictures saw the Indian PM wearing 3D spectacles which are advised for solar eclipse viewing. In another picture, he was seen posing next to the live streaming of the event at Kozhikode. The internet is such a place that anything and everything can be made into memes. So when someone posted PM Modi's picture of watching the solar eclipse stating it is becoming a meme, the Indian Prime Minister was welcoming of the jokes that would follow. His reply on acknowledging the memes has impressed many others.
Funny memes and jokes about the solar eclipse were anyway trending on social media since morning. So when PM Modi shared his pictures of watching the eclipse, there were chances of netizens making memes and jokes, in fact some of the memes have already come up on social media. When someone pointed it out, PM Modi took it sportingly. He tweeted, "Most Welcome. Enjoy..." Solar Eclipse December 2019 Pics and Videos: Netizens Share Glimpses of The Last Surya Grahan of The Year.
Check PM Modi's Tweet About Memes on His Picture of Watching Solar Eclipse:
Most welcome....enjoy :) https://t.co/uSFlDp0Ogm

— Narendra Modi (@narendramodi) December 26, 2019
Check The Pictures of Pm Modi Watching The Solar Eclipse:
Like many Indians, I was enthusiastic about #solareclipse2019.

Unfortunately, I could not see the Sun due to cloud cover but I did catch glimpses of the eclipse in Kozhikode and other parts on live stream. Also enriched my knowledge on the subject by interacting with experts. pic.twitter.com/EI1dcIWRIz

— Narendra Modi (@narendramodi) December 26, 2019
If you are wondering where the memes, we give you some.
How normal people see #solareclipse2019

vs

How Legends see #solareclipse2019 pic.twitter.com/Qgmom4rHrP

— Thakur Baldev Singh (@HathwalaThakur) December 26, 2019
Modi ji trying to visualise the dream of 5 trillion economy. #solareclipse2019 pic.twitter.com/RWeHFrifxc

— TheBadGuy (@trick_sterrr) December 26, 2019
Now when he himself has given a nod to making memes, we can only see the hilarious jokes that will start surfacing online throughout the day. This annular solar eclipse was the last one of this decade, and it wasn't a complete one, but a partial one for those who viewed it from India.
Watch Video of Solar Eclipse of December 2019 Seen From India:
Did you catch on this last Surya Grahan of the year? Meanwhile, stay tuned for the funny memes and jokes that would follow soon.