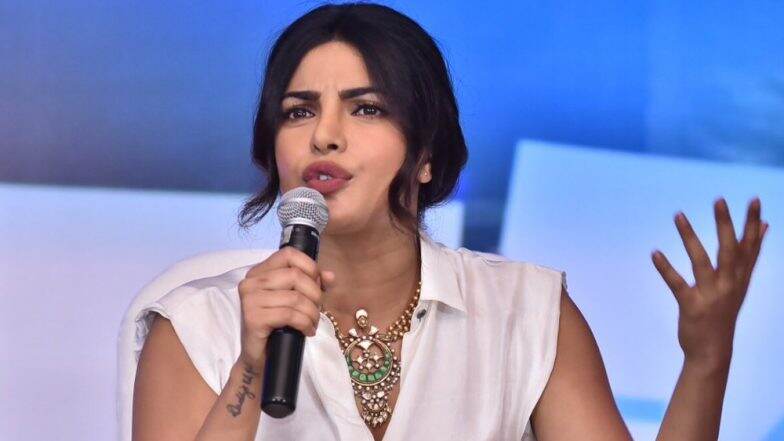 While the airstrike by Indian Army on Jaish-e-Mohammad (JeM) camps in Pakistan won accolades at home, Priyanka Chopra got into a soup for lauding the jawans for their magnificent feat in destroying the terror camps in the neighbouring nation. PeeCee, who is the UNICEF Goodwill Ambassador, lauded the efforts of the Army and tweeted, "Jai Hind #IndianArmedForces", following which, she faced flak in Pakistan. As per the reports in The News International, a petition was signed against the actress in Pakistan, in order to remove her as the ambassador. Ranveer Singh, Alia Bhatt, Abhishek Bachchan and Other Bollywood Celebs Welcome 'Hero' Abhinandan Varthaman Home (Read Tweets).
They also tagged the UN and the UNICEF as they issued this petition against the Bollywood actress. "War between two nuclear powers can only lead to destruction & death. As goodwill ambassador of UNICEF, Priyanka Chopra was supposed to stay neutral & peaceful but her tweet in favour of Indian arm forces after they invaded Pakistan airspace shows otherwise. She doesn't deserve this title anymore," reads the petition as cited by Avaaz.org.
Priyanka Chopra's Tweet
Jai Hind #IndianArmedForces 🇮🇳 🙏🏽

— PRIYANKA (@priyankachopra) February 26, 2019
Priyanka is not the only one lauding about the AIF feat but a bunch of Bollywood celebs came forward to support this move. However, due to PeeCee's position as the goodwill ambassador, her tweet received the backlash by some of the trolls.
Meanwhile, B-town is rejoicing the safe return of IAF Wing Commander, Abhinandan Varthaman in India. He was in the captive of the Pakistani army for two days and was welcomed home on Friday. Celebs like Ranveer Singh, Alia Bhatt, Ajay Devgn, Anil Kapoor, Shahid Kapoor, Kriti Sanon, Sidharth Malhotra to name a few, tweeted supporting him.