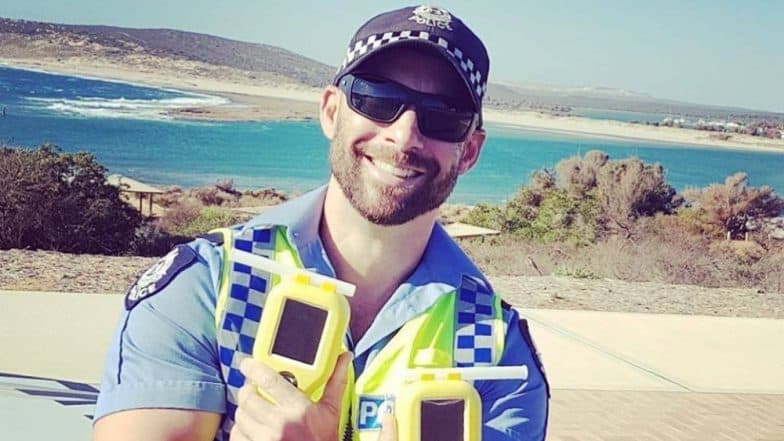 Photograph of a 'sexy' police officer from Western Australia has gone viral on social media with internet users swooning over his good looks. Western Australian Police posted a picture of the officer on Facebook promoting road safety during the Labour Day long weekend. The post went viral with people complimenting the looks of the Senior Constable Paul Ellison. While the post was against getting behind the bars, people appeared in getting arrested by him.
As part of a road safety campaign, officials shared a photo of Paul Ellison holding two breathalysers and captioned it saying, "We hope you had a fantastic long weekend Western Australia. Just remember, you still need to drive home! We're out and about across the state." The post went viral with cheeky remarks filling the comments section. Photos of Female Officers From Pakistan's Anti Narcotic Force Posing in Front of Drugs They Seized and Burnt Goes Viral.
Here is the Western Australian Police's Facebook post:
One of the comment reads, "Suddenly every female is having a drink and jumping into the car and hoping she sees this man." Another one reads, "I may just need to go for a drive."  Some even jokingly posted their mobile numbers hoping to get a call. A comment reads, "Haven't drank in years, quickly necking a bottle of wine and will be heading out shortly." Virgin Policewoman Only! Indonesian Female Officers Subjected to Two-Finger Virginity Test and Are Expected to Be 'Pretty' for Recruitment.
Reportedly, Constable Paul said that he was flattered by the praises pouring in. There have been multiple incidents of pictures of 'hot' police officers going viral. In January, Adrienne Koleszar, a 34-year-old police officer from Germany was asked not to post her 'sexy' pictures on social media. People used to comment on her pictures requesting the officer to arrest them. Paul also added that he was glad the message on road safety campaign garnered a lot of eyeballs.