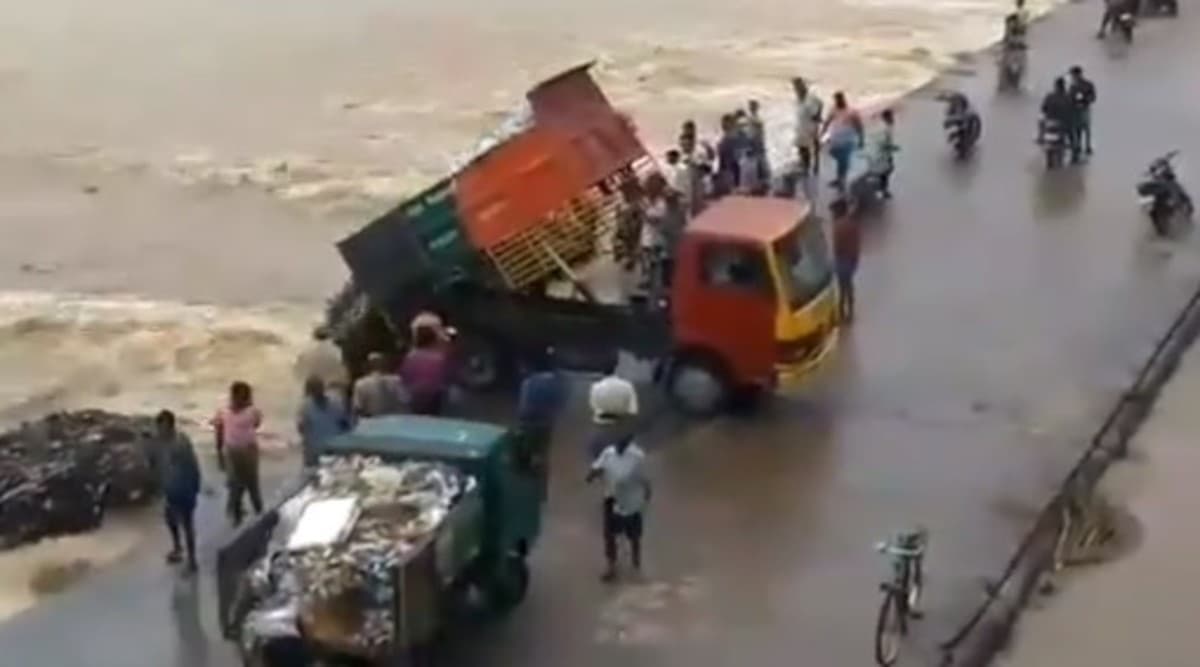 Cuddalore, December 5: A shocking video has emerged from Tamil Nadu's Cuddalore district, where heavy rains have been lashing out since last week. A video, which was going viral on social media, shows two vehicles of Two Panchayat dumping waste from Thittakudi taluk into a river. The clip shows thrash being tipped into the water and flowing away in the current. Chennai's Marina Beach Covered in Toxic Foams, Famous Tourist Spot Gets Polluted Due to Sewage Water (View Pics and Videos).
In the clip, Town Panchayat garbage trucks can be seen at the middle of a bridge linking Thittakudi and Ariyalur and the waste being thrown into the Vellar river, brimming following the monsoon rains. Viral Video of Sanitation Staff Dumping Garbage in a Flooding Bhiwandi River Raises Concerns Amidst Mumbai Rains.
Watch Video:
Town Panchayat in Cuddalore district's Thittakudi taluk dumps garbage directly into water body. Two officials suspended after act was caught on camera. pic.twitter.com/jaOMjKNGkP

— priyankathirumurthy (@priyankathiru) December 5, 2019
According to reports, medical waste, degradable and non-degradable waste was dumped in to the water body for four days. Local residents shot the video and send it to Cuddalore collector Anbuselvan. On December 3, the collector met officials of Town Panchayat and detailed about the matter. However, Gunasekaran, the executive officer of the Thittakudi town panchayat, denied any illegal disposing.
After an inquiry, Gunasekaran and a Sanitation supervisor were suspended. The executive officer said that he was unaware of the development. Meanwhile, Tirunelveli corporation administrators have received complaints about hospital waste being deposited along the main road in the city.