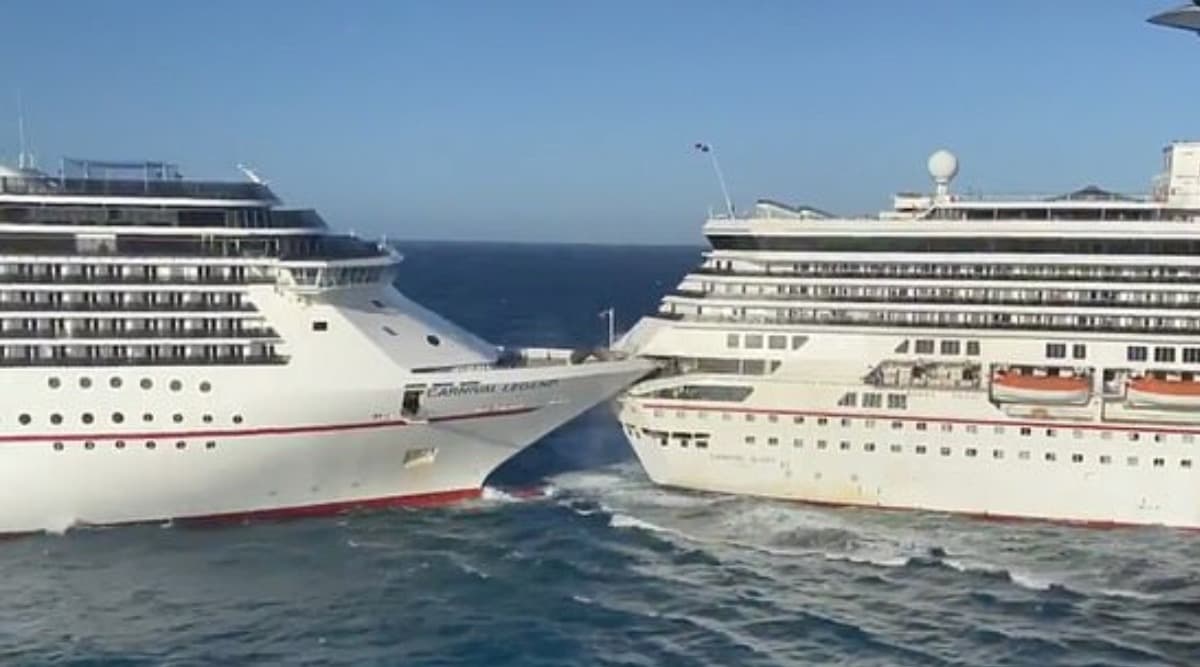 In an utterly shocking incident, two Carnival cruise ships crashed into each other at a port in Mexico. The crash damaged at least one of the vessels. The incident happened when Carnival Glory was manoeuvring to dock in Cozumel around 8.30 am. It struck the Carnival Legend damaging at least one of the vessels. Carnival Cruise Lines said that one person suffered a minor injury on the Carnival Glory as guests where being evacuated from the dining room. Busy Bee Plane Crashes into Busy DR Congo City Goma, Kills At least 23.
Videos and images of the crash have now gone viral on social media platforms. The pictures show Glory reaching the port and passing close to the prow of the Legend. It is followed by a loud sound where both the boats hit one-another. The rear of the Glory was broken including windows and railings. Another video shows the ship called Oasis of the Seas in front of the Legend. In the incident, the stern of the 952-foot-long vessel was crushed leaving passengers shocked.
Here is The Video:
Carnival Glory just crashed into Carnival Legend and almost crashed into Oasis of the Seas at the Cozumel cruise port. #FoxNews #RoyalCaribbean #CarnivalLegend #CarnivalGlory #OasisoftheSeas pic.twitter.com/5ITBCfz99L

— Matthew Bruin (@BruinMatthew) December 20, 2019
Carnival Glory in a statement said, "Carnival Glory had a collision with Carnival Legend this morning in Cozumel. Carnival Glory was manoeuvring to dock when it made contact with Carnival Legend which was already alongside. We are assessing the damage but there are no issues that impact the seaworthiness of either ship. We have advised guests from both ships to enjoy their day ashore in Cozumel." The Carnival Glory is a Conquest-class cruise liner which was going from New Orleans and tours the Caribbean and Panama Canal. The Glory can sleep almost 3,000 guests and another 1,000 crew.