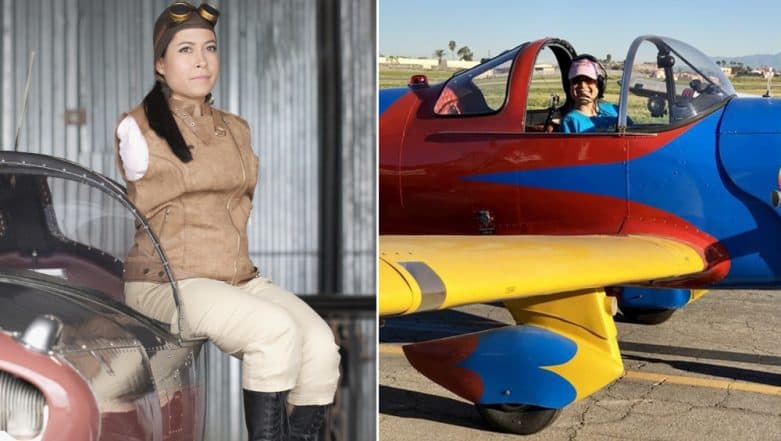 Arizona woman Jessica Cox has become the first woman with a first licensed pilot in the United States who has learned to fly a plane with her feet. The 36-year-old who uses her feet to do most of her household chores was born with a rare condition due to which her upper limbs did not develop. Cox hopes that she inspires people with specially-abled to achieve their dreams. Jammu and Kashmir CRPF Personnel Feeds Differently Abled Child With His Hands, Video Goes Viral.
According to the CCN, she can also play the piano, is a certified scuba diver, motivational speaker and holds a third-degree black belt in taekwondo. She was quoted as saying, "My mom had a normal pregnancy. And then on the day of my birth, it was an absolute shock to both of my parents, especially my mom, who was devastated when the doctor brought me over saying, 'your baby doesn't have any arms.' " While doctors couldn't find out the reason for her differently-abled, she credits her family for bringing her up with courage and strength. Scoot Airline Allegedly Refuses to Fly Child With Special Needs, Asks Parents to Deplane.
Check out her picture below:
View this post on Instagram
Although it is not confirmed, Cox was likely to be born with Amelia, a rare condition due to which one or more limbs doesn't form. It is believed that the limb formation process stopped very early, between 24 and 36 days after fertilization. The number of people suffering from the condition is not known because most babies affected are stillborn or die shortly after birth.  As a child, she did not let her deformity stop her doing things that girls of her age did. She has learned tap dancing, participated in Girl Scouts, not bothering what people had to say.
Check out her photo below:
View this post on Instagram
She said, "I wanted so much to be normal, and I was told too often that I couldn't do something or that I was handicapped. I absolutely resented the word 'handicap'." While she was earlier afraid of planes, she eventually learned flying and scaled heights. She used prosthetic arms initially, but later preferred to use her feet. After graduating with a degree in psychology from the University of Arizona in 2005, she decided to become a pilot. She learnt flying from the Federal Aviation Administration and received her certificate in October 2008. She then also found a plane with a single engine known as an Ercoupe which would be comfortable for her to use.
Watch the video below:
She further said, "Because I live my life the way I do, it has this tremendous impact on other people. I've had role models and leaders. And because I've had that, now it's my responsibility to be the same for the next generation. I often think about if I could go back and change my life so that I was born with arms -- first of all, my life would be completely different, and one of the things that I see is so powerful is because I live my life the way I do, it has this tremendous impact on other people."