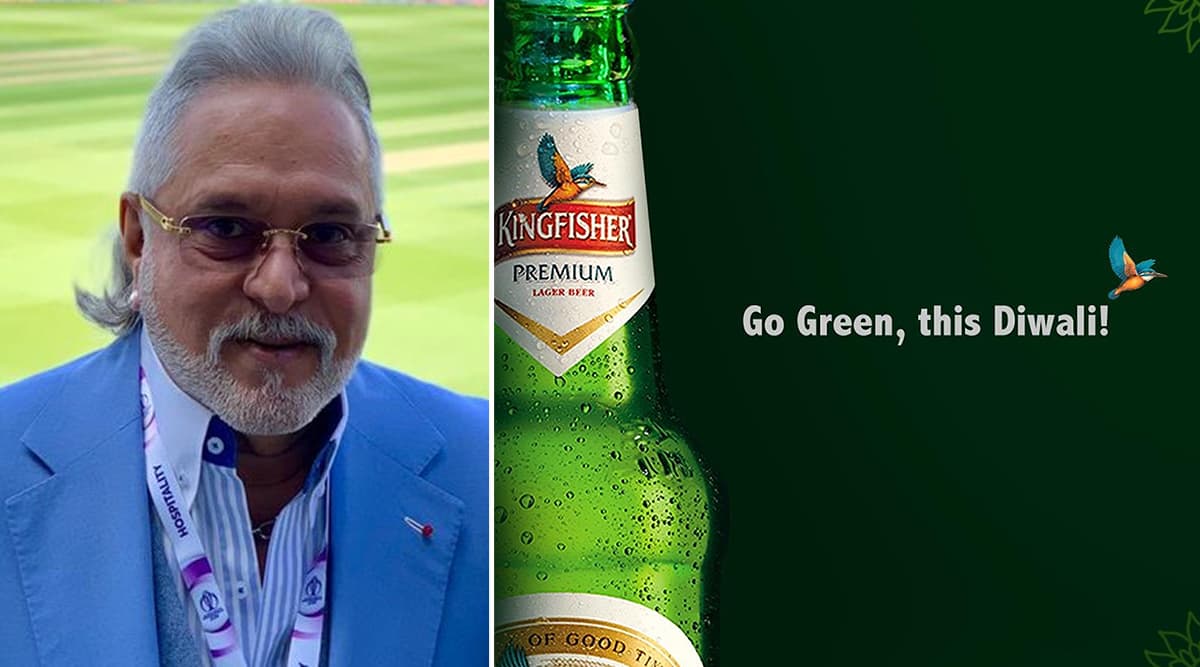 Vijay Mallya, the former owner of Kingfisher once again became the butt of all jokes on Twitter after he posted a tweet. On the occasion of Diwali 2019, Mallya took to Twitter sharing picture of a Kingfisher Premium beer bottle with the caption, 'Go Greem, this Diwali!' However, Mallya's intent to spread awareness on celebrating Diwali in an eco-friendly way went down the drain as Twitterati came with funny memes and hilarious jokes on the tweet. Vijay Mallya Petitions Supreme Court, Seeks Stay on Confiscation of Properties Not Related to Kingfisher Airlines.
While the liquor tycoon tried to co-ordinate the colour of the beer bottle with environmental friendly celebrations, social media users found new meanings to it. Some tweeted that will indeed go 'Green; by choosing other beer brands over Kingfisher. Soon, Twitterati all over again began demanding him of the unpaid debt he took from banks for his business ventures. Others sarcastically invited him to come to India for Diwali and celebrate the festival in his homeland.
Vijay Mallya Tweets 'Go Green' on Diwali 2019:
— Vijay Mallya (@TheVijayMallya) October 26, 2019
Check Out Twitter Reactions Below:
SBI IS MISSSING YOU..

— Nitin InderJeet Puri (@Nitin_Puri1) October 26, 2019
HAHAHA
Come India This Diwali

— Shïvõhâm🧘🏻‍♂️ (@iParas5) October 26, 2019
Uh Oh!
Okay, I'll go green. Happy Diwali 💐 pic.twitter.com/BgxeSTwI4j

— Unemployed Marwadi 🇮🇳 (@Muaaaahrwadi) October 27, 2019
Twitter Never Forgets!
Woh sab toh theek hai lekin paisa kab wapas kar raha hai tu??? pic.twitter.com/zFk33rw06F

— Procrastinator (@sagar_ravrane17) October 26, 2019
Nothing Creative Like Twitter!
— Aɴĸιт pαтel (@ank08) October 27, 2019
It All Boils Down to Money!
— DiXit (@DIXITPANDYA12) October 26, 2019
Twitterati Wants Mallya to Celebrate Diwali in India This Year!
— Vikas Gurudev (@VikasGurudev) October 26, 2019
The 63-year-old is fighting extradition to India in relation to fraud and money laundering allegations caused by debt acquired from the banks. Mallya is currently on bail pending his UK High Court appeal in the extradition proceedings brought by India in relation to charges of fraud and money laundering amounting to an alleged Rs 9,000 crore. His next hearing is scheduled for February 2020.
The ex-chairman of United Spirits continues to serve as chairman of United Breweries Group. Vijay Mallya's now-defunct Kingfisher Airlines floundered in 2008 following a global recession and soaring fuel prices. As the money he took as loan accumulated to thousands of crores, Mallya fled to the UK in 2016. He has publicly accepted to return the pending amount to the banks.