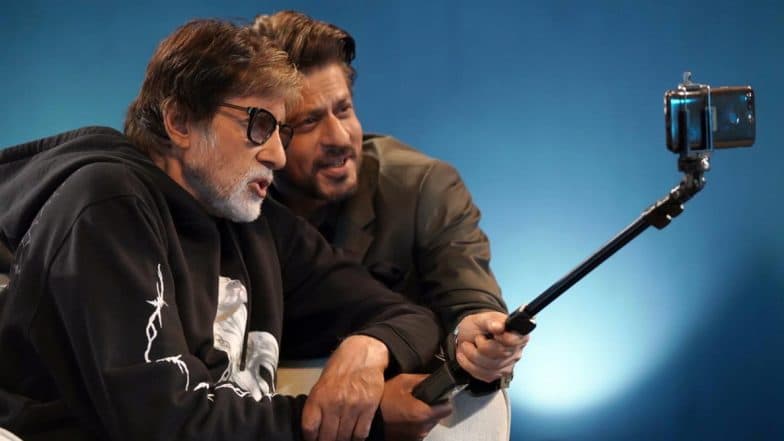 Amitabh Bachchan is quite active on Twitter. Each day he tweets a few lines and thoughts on his profile and his wise words often make headlines. In his latest tweet, the senior Bollywood actor has made his own Hindi word for selfie. It has become such an accepted term today but have you ever wondered what is a selfie called in Hindi? Well, the original term for selfie is "व्यतिगत दूरभाषित यंत्र से हस्त उत्पादित स्व चित्र". Now you know why we prefer saying just selfie! But Senior Bachchan decided to coin his own term with a short form for it "वदय सह उसच."
Selfie may have become a popular word in the last few years with more and more people switching to smartphones. However, the word was included in the Oxford Dictionary in the year 2013. Now Amitabh Bachchan decided to make a shorter word for a selfie by taking all the first letters of the original Hindi word. Amitabh Bachchan Posts a Picture in Swimwear and You Will Never Be Able to See Him in the Same Way Again.
Check Amitabh Bachchan's Tweet on Word for Selfie:
T 3290 - For long there was an attempt to find a suitable Hindi word for 'Selfie' .. many suggestions came to me .. so .. not entirely satisfied I decided to coin one myself :

ITS :

'वदय सह उसच :' 🤪🤪

.

.

.

.

.

व्यतिगत दूरभाषित यंत्र से हस्त उत्पादित स्व चित्र

🇮🇳🇮🇳🇮🇳🇮🇳🇮🇳🇮🇳

— Amitabh Bachchan (@SrBachchan) September 16, 2019
The actor often posts nice lines of poem or prose, sharing his own throwback memories with his 38 million-plus followers. People also seem to be loving his innovation too. The tweet has got more close to 15,000 likes. So next time you want to say and confuse someone asking them to take a selfie, you can use Amitabh Bachchan's term.