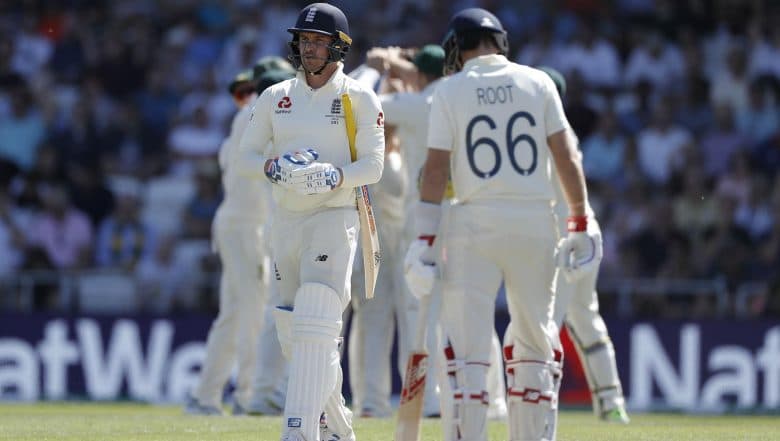 The Australian team went on to beat England in the fourth Test of the Ashes 201 9 after beating England by 185 runs. With this, Tim Paine and men went on to win the Ashes 2019 trophy and there registered a big victory. Needless to say that every Australian was happy with the way the team played and dominated the series. Now, the official handle of the Australian Federal Police took a jibe at the hosts after Tim Paine and men won the series. Steve Smith 'Ridicules' Jack Leach With His Glasses Celebration After Retaining Ashes Trophy, Cricket Fans Slam Australian Batsman's 'Classless' Mockery!
The dig did not stop here, but they also took a potshot at England cricket team winning the Cricket World Cup 2019. If one may recall, England won the finals against New Zealand on the count of boundaries. The official account of the AFP posted three tweets where they lauded the performance of the team but were also sorry for the fact that England will not hand over the trophy any sooner.
This gang previously stole a valuable cup from the hands of some of our NZ neighbours in London, followed by one of their red-headed members attempting to wrestle an antique urn away from its rightful owners during a visit to Headingly.

— AFP (@AusFedPolice) September 9, 2019
Last one
We are glad to see the urn is back where it belongs – even if the contents appear to be badly damaged by fire. Sorry @nzpolice, we understand that gang does not want to hand over the cup anytime soon.

— AFP (@AusFedPolice) September 9, 2019
Talking about the match, it was Steve Smith's double ton that led the team to victory. The visitors bundled out the England national team on the score of 197 runs. It was Pat Cummins who snapped four wickets in the second innings. Only John Denly from England went beyond the score of 53 runs. Before the fourth game, the Ashes 2019 series stood on 1-1, but the home team could not replicate their performance from the last Test match and as a result, Australia walked away with a win.