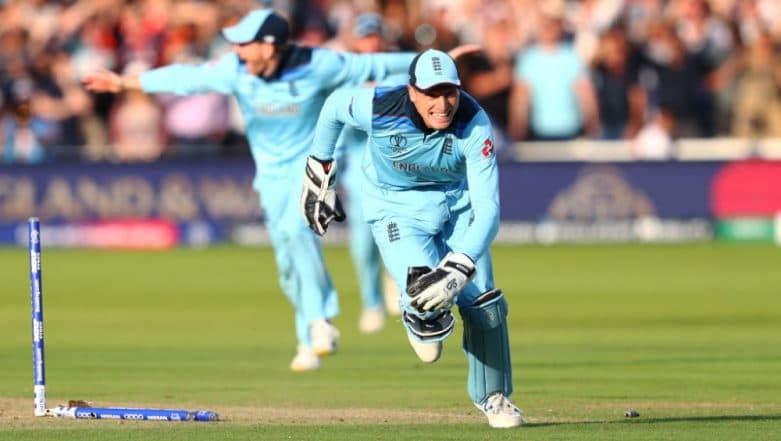 The final of ICC Cricket World Cup 2019 (CWC 2019) between New Zealand and England at the Lord's Cricket Ground in London will be remembered till eternity! First, in chase of 242 runs, the match between New Zealand and England ended in a tie. And then, as per the rules, Super Over took place to decided the winner of the CWC 2019. Believe it or not! The Super Over ended in a tie as well and England were declared winners. Here's how and why England were named winners of the Cricket World Cup 2019. England Are the Champions! Eoin Morgan and Co. Win ICC Cricket World Cup 2019 in Thriller Super-Over Final Match Against New Zealand.
Apparently, this was the first Super Over to be held in an ODI match. Chasing 242, England were bowled out for 241 in their allotted 50 overs. On the last ball, the hosts needed two runs, but Stokes managed only one run.
The final then moved into the Super Over. England batted first and scored 15 runs to set New Zealand 16 to win. New Zealand looked well on course for the win and needed two off the last ball. However, while attempting the second run, Guptill was run-out and thus the Super Over was tied as well. England Win Cricket World Cup 2019 | New Zealand vs England Highlights of ICC World Cup 2019 Final Match: Hosts Win on Boundary Count.
Here's What Super Over Rules Say:
# In case the World Cup final is tied, winner to be decided via Super Over.
# Only players from playing XI will participate (bat and bowl) in the Super Over.
# Team batting second will bat first in the Super Over.
# Fielding side will choose the bowling end.
# In case, Super Over is tied as well. Winner will be decided on the basis on superior boundary count in their innings and the Super Over as well.
So, it is clear that England were named as the winners of the Cricket World Cup 2019 on superior boundary count despite the match and Super Over ending in a tie. Meanwhile, after India and Australia, England becomes the third host nation to win the Cricket World Cup.