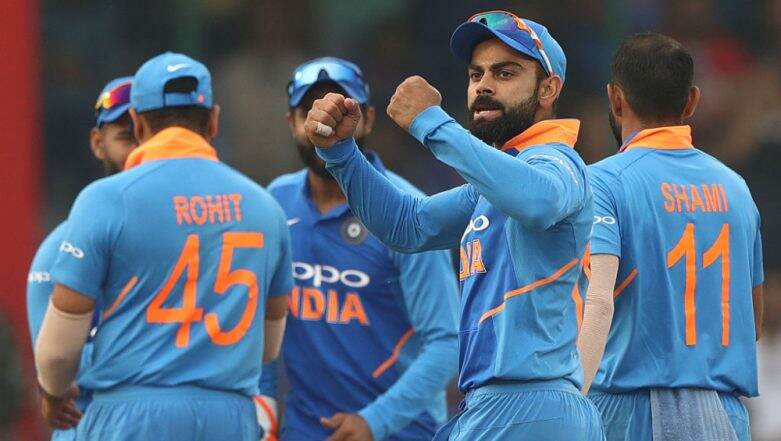 Two-time champions India will be the most experienced team at the ICC Cricket World Cup 2019, which begins on May 30 in England and Wales. The Virat Kohli-led side happens to be the most capped squad participating in the World Cup. The Indian squad for the World Cup has a total of 1573 international appearances with Bangladesh on second with 1299 appearances (Bangladesh will feature in tai-series before the World Cup and that number will change). ICC Cricket World Cup 2019 Schedule in PDF: Ticket Prices, Dates, Venue Details & Timetable Available for Download Online.
India's wicketkeeper-batsman MS Dhoni is most capped player in the squad 341 One-Day Internationals (ODIs). Skipper Virat Kohli is second most capped Indian player in the tournament with 227 ODIs against his name.
Apart from having a distinction of being most capped team, India's squad also has the most hundreds with a team tally of 90. Interestingly, out of these 41 belong to Kohli while Rohit Sharma, Shikhar Dhawan, and Dhoni have 22, 16 and 10 respectively.
India's World Cup campaign beings on June 05 against South Africa. Ahead of the main tournament, India will face New Zealand on May 25 and Bangladesh on May 28 in the two warm-up matches. ICC Cricket World Cup 2019 Warm-Up Matches Schedule: Check India's Fixture Dates Against New Zealand and Bangladesh.
The CWC 2019 is the 12th edition of the tournament. Australia, who won the 2015 Cricket World Cup, apparently are the defending champions. They have won the tournament record five times while India and West Indies have won it twice each.