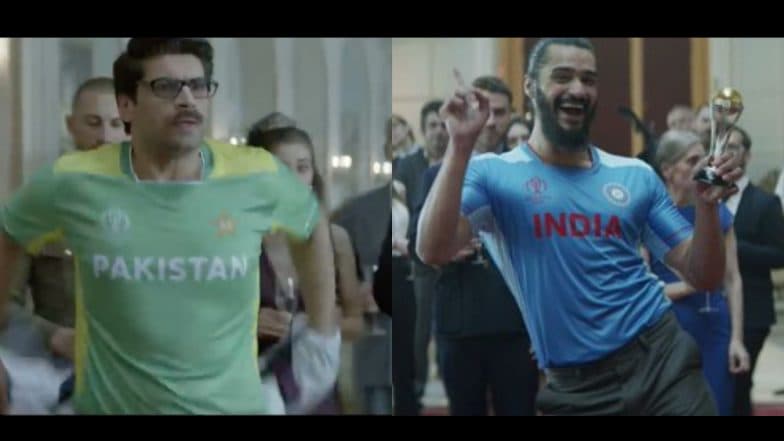 ICC Cricket World Cup 2019's official broadcaster Star Sports has released a new promotional video ahead of the tournament, which begins on May 30 in England and Wales.The latest video by the broadcaster is titled as 'Cricket Ka Crown Hum Le Jayenge!' In the video, representatives of all participating nations are dancing to a peppy tune and present their contendership for the World Cup title. ICC Cricket World Cup 2019 Schedule in PDF: Ticket Prices, Dates, Venue Details & Timetable Available for Download Online.
Interestingly, Pakistan fan 'Mauka Mauka Man' played by actor Vishal Malhotra is also spotted in the latest video. Vishal aka 'Mauka Mauka Man' was super hit during the 2015 ICC Cricket World Cup and was main lead of the series of ads which Star Sports initially ran for India vs Pakistan match.
Given the ads success and its viral reach, 'Mauka Mauka Man' was seen making appearances in all promotional videos related to Pakistan and became a full-fledged campaign. It was the most viewed ad campaign of the 2015 World Cup, with over 30 million views. ICC Cricket World Cup 2019 Warm-Up Matches Schedule: Check India's Fixture Dates Against New Zealand and Bangladesh.
Here's the latest promotional video of CWC19
The upcoming cricket World Cup will feature ten teams- Australia, Afghanistan, Bangladesh, hosts England, India, New Zealand, Pakistan, South Africa, Sri Lanka and West Indies. All teams will face-off each other in the round-robin format and top four teams will qualify for the semifinals. Australia are the defending champions. ICC Cricket World Cup 2019 All Teams Squad: Full Players List of Nations Participating in CWC 19.
The World Cup will end on July 14 with final at the iconic Lord's Cricket Ground in London. The semifinals will take place on July 09 and July 11. Cricket World Cup 2019 will feature a total of 48 matches.