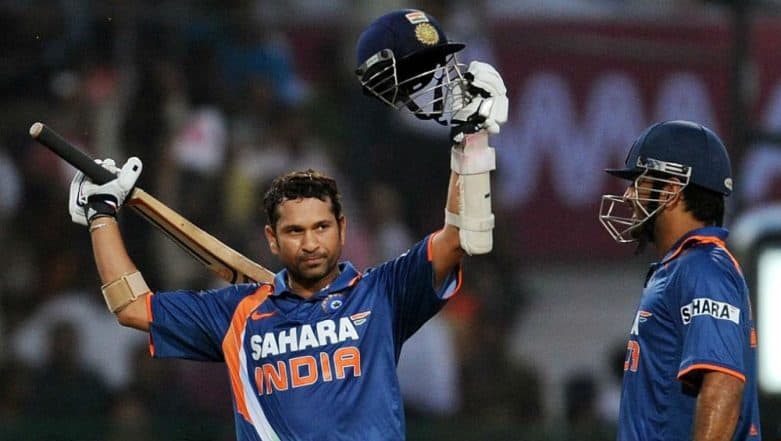 Mumbai, February 24: On this day in 2010, legendary Indian batsman Sachin Tendulkar became the first batsman in the world to score a double century in the ODIs after scoring 200 not out against South Africa in Gwalior. The batting great brought up his double century as crowds roared and the world stood on its feet to salute the master who had broken another milestone and created a new one. Shivaji Jayanti 2019: Sachin Tendulkar Greets Nation on Chhatrapati Shivaji Maharaj's Birth Anniversary.
The batting maestro brought up his and the world's first double century in an ODI match with the help of 25 fours and three 6s he hit in the course of his marathon 147 ball innings and went back to the pavillion unbeaten and not out at the perfect score of 200*. Sachin Tendulkar Wishes on Magha Ganesh Jayanti 2019, Shares Pic of Lord Ganesha on Instagram.
Present Indian cricket coach and one time commentator Ravi Shastri, who was calling in the match, happened to be in the commentary box just at the right time. "Gets it. The first man on the planet to reach 200 and it's the superman from India - Sachin Tendulkar 200 from 147. Take a bow master," thundered Ravi Shastri from the commentary box. The impact of Sachin's innings has been such that before him, in almost 40 years of ODI history, no male cricketer scored a double hundred. However, once the master blaster breached the mental block of a double hundred and showed the way, the feat has been achieved eight times in ODIs including in Men's cricket. Rohit Sharma is the only batsman to have done it twice and Virendra Sehwag has scored a double hundred in the ODIs too.
Such was the impact of Sachin's innings that it not only broke records on the cricket field but also outside the field as sponsors once again lined up to get the master blaster on their side. The next day, it was Sachin Tendulkar on the front pages of all the newspapers despite the rail budget presented that very day. As one famous writer said about the legendary Sachin Tendulkar, he could truly stop time and even overshadow a budget in India.