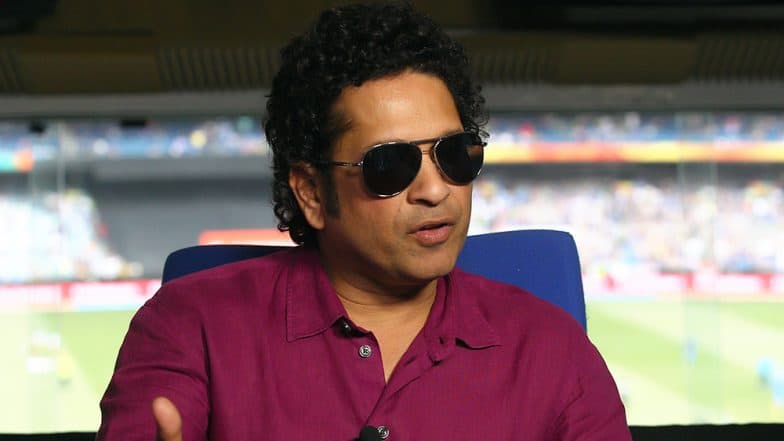 In order to make the 50-over format more interesting, Sachin Tendulkar has suggested the division of an  ODI match into four innings of 25 overs each. According to the Master Blaster, this step will enhance the quality of ODI cricket and will also attract a lot of cricket fans. In the last few years, many new rules like taking two new ball and three power plays were introduced in order to make the One-Day format more interesting. However, the middle overs of the innings are still considered to be dull as neither runs are being scored at a brisk pace nor the bowlers are chipping in with wickets. So, Sachin's thought does make sense and this rule can excite many cricketers as well as the viewers. Sachin Tendulkar Wishes Virat Kohli on His 31st Birthday, Wants Him to 'Keep Scoring Runs and Lead India With Same Passion'
In a chat with Times of India, Sachin expressed his desire to see an ODI match in four parts with a 15-over break between each innings. According to the legendary batsman, if Team A decides to bat against Team B in an ODI match, they will just play 25 overs in their first innings and Team B will come out to bat for 25 overs in the second innings. In the third innings, Team A will resume from they left off in their first innings and will set a final target for the opposition. In the final innings, Team B will have to chase the total to win the clash. Also, if a side gets all-out in their first 25 overs, the opposition will get 50 overs to chase the target.
The Master Blaster also called for the alteration of the Powerplay rules. According to him, the first five overs of the innings should be the mandatory powerplay. After that, the batting side can take two overs of powerplay while the fielding side will take three in an innings. This cycle will be repeated in all four innings.
Sachin also believes that this rule can also save a lot of matches from getting washed out as curtailing the match after the first fifty overs will be easier in comparison to the controversial Duckworth Lewis method. The 46-year old has backed his idea with many facts and it will interesting whether the International Cricket Council will put emphasis on the thought or not. Talking about ODIs, the format has seen many alterations. At inception, an ODI inning consisted of 60 overs which was later cut down to 50. Recently, ICC also thrashed the boundary rule and let's see how the apex cricket body will react to Tendulkar's idea.