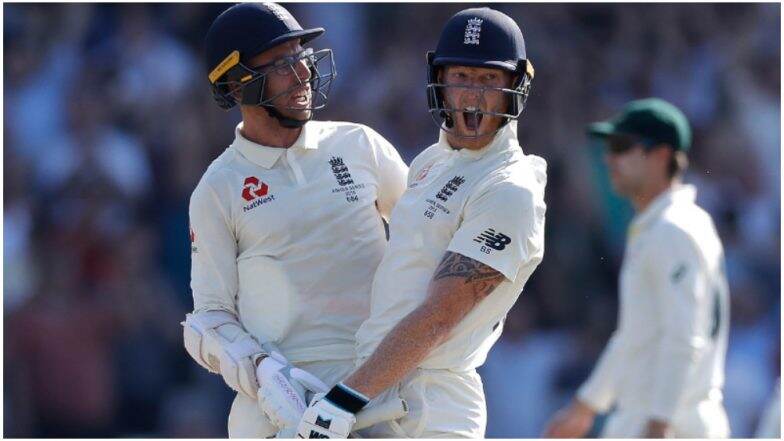 Ben Stokes hit a sensational match-winning century to single-handedly dragging England to a victory by 1 wicket against Australia in the third Ashes Test at Headingley, Leeds. Stokes' majestic innings of 135 runs helped England level the series 1-1 and keep the Ashes series alive. The game looked long back when England were doomed to their lowest ever Ashes score in 71 years. But Ben Stokes didn't think it was lost even when he was left with no 11, Jack Leach. His sublime innings received a lot of praise on social media with netizens also complimenting Leach for sticking with their Hero of the moment.  Australia vs England Highlights And Cricket Score.
Stokes' innings of 135 from 219 deliveries included 11 fours and eight sixes, while Leach played 17 deliveries for his 1 run. Earlier, skipper Joe Root made a fighting 77 runs and was involved in a century run partnership with Joe Denly (50) in England's 359-run chase. But the game was still lost when Jofra Archer departed trying a shot too many and Stuart Broad went for a two-ball duck. But Stokes took it on himself to lead England to another famous victory.
An Absolute Warrior
AN INCREDIBLE MOMENT!!

AN ABSOLUTE WARRIOR!!

WHAT A MAN @benstokes38!!

Scorecard/Videos: https://t.co/yK4bf7wbfc#Ashes pic.twitter.com/o95fdZd31O

— England Cricket (@englandcricket) August 25, 2019
Ben Stokes Keeps Test Cricket Alive
Whenever somebody pronounces the death of Test cricket, a match like this will come along..

And can there still be much doubt that @benstokes38 is the most dominant cricketer in the world today... #Ashes2019

— Shekhar Gupta (@ShekharGupta) August 25, 2019
Will Ben Stokes Marry Graeme Swann's Sister
I have no sister but if I did I'd want her to marry Ben Stokes.

— Graeme Swann (@Swannyg66) August 25, 2019
The Ben Stokes Innings
Ben Stokes after the fall of 9th wicket

6, 0, 1, 0, 0, 0, 2, 1, 6, 0, 0, 0, 6, 1, 0, 1, 2, 0, 6, 2, 1, 4, 6, 6, 2, 1, 0, 0, 0, 0, 1, 0, 4, 4, 1, 0, 0, 6, 0, 0, 0, 4

Scored 74 runs off last 42 balls (7 sixes)#Ashes2019 pic.twitter.com/zUxlOMcCTB

— Mujtaba Ali (@mujtabaalinpk) August 25, 2019
One of Best Ashes Knocks Ever
One of the best knocks of all time in Test Cricket.#Stokes #Ashes2019

— Jason Gillespie 🌱🌈 (@dizzy259) August 25, 2019
The Winning Moment
Arise Sir Ben Stokes - with Titanic Music #Ashes2019 pic.twitter.com/nWJHSpVrlJ

— Teddy Wheatley (@____Teddy__) August 25, 2019
Innings of a Lifetime
Innings of a lifetime! Hero @benstokes38 👏🏼 #Ashes2019 pic.twitter.com/61kYZOqN3t

— United Xtra (@utdxtra) August 25, 2019
Most Extraordinary Performance
David Gower on @benstokes38 just now "that was the most extraordinary performance I've seen from anyone, ever" - I have to agree David 🏴󠁧󠁢󠁥󠁮󠁧󠁿🏏 #Ashes2019 #Ashes19 pic.twitter.com/TOTo0G9SZ6

— Tony Cottee (@TonyCottee9) August 25, 2019
Hats Off to Stokes
Unbelievable scenes at the ashes ! @benstokes38 can't really describe what you did with that bat, hats of to you 🎩 test cricket at its best 🏏 #Ashes2019

— yuvraj singh (@YUVSTRONG12) August 25, 2019
The Greatest Innings By an Englishman
"The greatest innings played by an Englishman."@Aggerscricket and Sir Alastair Cook watch @benstokes38 leave the stage.

📻 Listen on @5liveSport

📱 https://t.co/j689kz9hoi#bbccricket pic.twitter.com/awMHKl4b94

— Test Match Special (@bbctms) August 25, 2019
Yes He Did
BREAKING NEWS: Cricketer Ben Stokes taken into hospital with severe back pain due to carrying the entire nation on his shoulders... #Ashes2019 pic.twitter.com/KK2xsuQHya

— Felix (@felixrackers) August 25, 2019
With Ben Stokes' marvellous innings the Ashes 2019 remained alive. England Australia are now tied at 1-1 with two more Tests to play. Australia beat England by 252 runs in the first Test, while the second game ended in a draw before England's sensational 1-wicket victory at Leeds.