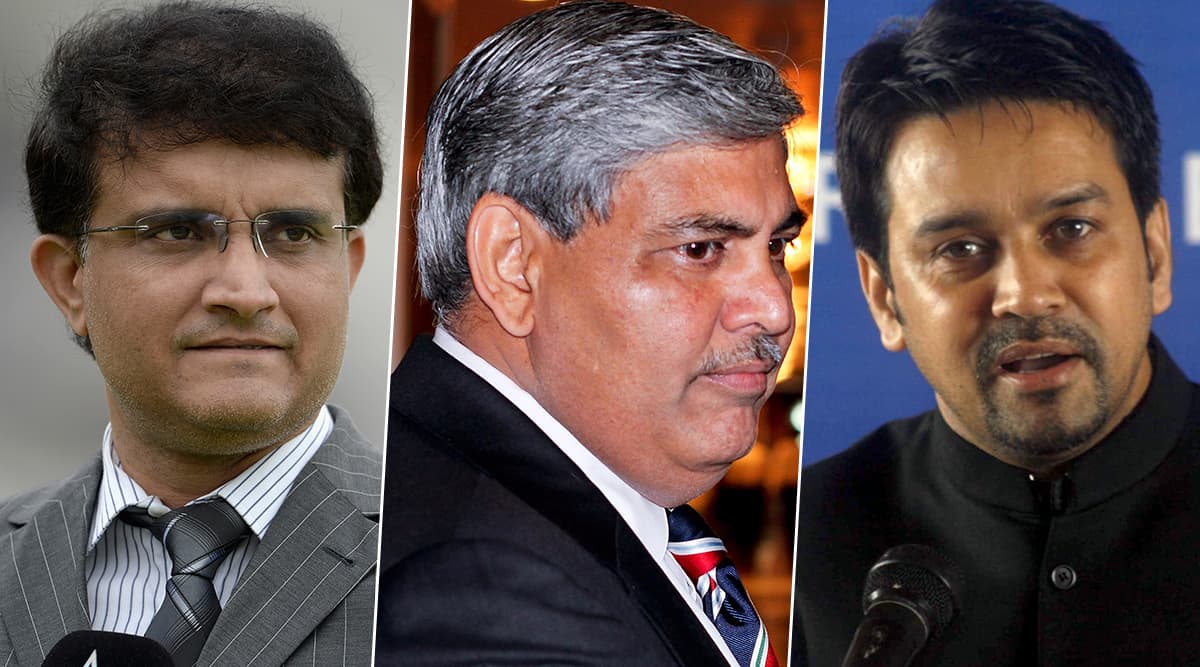 Sourav Ganguly took over the post of new BCCI President on Wednesday. The former Indian cricketer was appointed as the new leader of Indian cricket board two weeks ago. During BCCI's AGM meeting on October 23, Wednesday, he took over the post of the new head of BCCI chief. Ganguly became the only second Indian skipper to take over BCCI's head post. Earlier, Maharajkumar of Vizianagram aka Vizzy had donned both the roles. Sunil Gavaskar is another former Indian skipper who was made the BCCI chief but he held the post as interim chief for a short period. As former Indian Skipper Ganguly becomes new BCCI president, below is the list of all the BCCI presidents so far. Sourav Ganguly Officially Takes Over the Reins of BCCI; Dada Given a Warm Welcome (See Pics). 
During BCCI's AGM meet on Wednesday, Union Home Minister Amit Shah's son Jay Shah was made the BCCI secretary. Former BCCI's chief Anurag Thakur's younger brother Arun Dhumal became the treasurer. Jayesh George took over as the new joint secretary. Mahim Verma of Uttarakhand became the new vice-president. Talking about BCCI presidents so far, the boasts of some prominent names like Anurag Thakur, Shashank Manohar, Sharad Pawar and others. Let's have a look at all the BCCI presidents in India so far.
List of BCCI Presidents
Sr. No
Name
Term
1
R E Grant Govan
1928-1933
2
Sir Sikandar Hayat Khan
1933-1935
3
Nawab Hamidullah Khan
1935-1937
4
Maharaja K S Digvijaysinhji
1937-1938
5
P Subbarayan
1938-1946
6
Anthony S D'Mello
1946-1951
7
J C Mukherji
1951-1954
8
Maharajkumar of Vizianagram
1954-1956
9
Sardar SS Majithia
1956-1958
10
R K Patel
1958-1960
11
M A Chidambaram
1960-1963
12
Maharaja F Gaekwad
1963-1966
13
Z R Irani
1966-1969
14
A N Ghose
1969-1972
15
P M Rungta
1972-1975
16
Ramprakash Mehra
1975-1977
17
M Chinnaswamy
1977-1980
18
S K Wankhede
1980-1982
19
NKP Salve
1982-1985
20
S Sriraman
1985-1988
21
B N Dutt
1988-1990
22
Madhavrao Scindia
1990-1993
23
I S Bindra
1993-1996
24
Raj Singh Dungarpur
1996-1999
25
A C Muthiah
1999-2001
26
Jagmohan Dalmiya
2001-2004
27
Ranbir Singh Mahendra
2004-2005
28
Sharad Pawar
2005-2008
29
Shashank Manohar
2008-2011
30
N Srinivasan
2011-2013
31
Jagmohan Dalmiya (Interim)
2013-2013
32
N Srinivasan
2013-2014
33
Shivlal Yadav (Interim)
2014-2014
34
Sunil Gavaskar (Interim)
2014-2014
35
Jagmohan Dalmiya (Died in office)
2015-2015

36
Shashank Manohar

(Resigned)

2015-2016
37
Anurag Thakur

(Sacked)

2016-2017
38
C K Khanna (Interim)
2017-2019
39
Sourav Ganguly
2019-Present
Ganguly was unanimously appointed as the BCCI chief. The former Indian skipper is also President of the Cricket Association of Bengal (CAB) and will continue with the position till September 2020. He was appointed as CAB head last month. Earlier, Ganguly had told media that his priority will be to look after first-class cricketers.