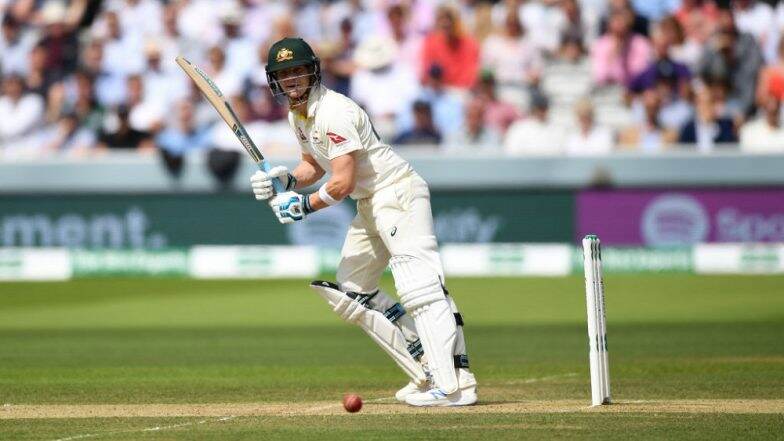 Steve Smith displayed nerves of steel in the first innings of the second game of the Ashes 2019 and scored 92 runs as rest of the team did not stay for a long time. But during the course of his innings, while Smith was batting on the score of 80 runs, the batsman got hit by Jofra Archer. Smith was first hurt on his elbow and then neck. He walked off the field and was booed by the crowd. The act did not go down well with the netizens who slammed the behaviour of the England crowd. The act didn't go down well with the netizens and former Australian pacer Mitchell Johnson who slammed the crowd and said that they are not real cricket fans. Steve Smith Achieves a Unique Record During Ashes 2019, Second Test Day 4.
Smith got retired hurt but once again walked out to bat and continued to bat. The right-hander made a comeback to international cricket after serving a 12-month ban and how! The Australian batsman was banned for 12 months due to ball-tampering. In the first match of the Ashes 2019, Smith scored a hundred in both the innings and played a vital role in the victory of the match. England vs Australia Live Cricket Score 2nd Test Match.
The video of Smith being booed went viral on social media. Check out the video below:
Booing for Steve Smith now coming out to bat after getting felled by a bouncer 🤔🤔

— Damien Fleming (@bowlologist) August 17, 2019
Check out a few reactions below:
Boo David Warner all you like, Bancroft too if you have to, but if you can't appreciate what Steve Smith does game after game after game, you've got no place watching cricket. The guy is incredible. #ENGvAUS #Ashes2019

— Steve Bland (@blandsteve) August 17, 2019
Mitchell Johnson also slammed the crowd and said that people booing Steve Smith after he was hit are not cricket fans.
Absolutely disgusting.
All those who boo'd Steve Smith as he walked back out should get banned from attending cricket matches! Absolutely disgraceful behaviour #Ashes #ENGvAUS

— ThePoppingCrease (@PoppingCreaseSA) August 17, 2019
Another one.
To the people who boo'ed Smith for returning to bat, the game isn't for you. We're better without you.

— Nikhil 🏏 (@CricCrazyNIKS) August 17, 2019
Michael Vaughan.
I get the pantomime of @stevesmith49 arrival to the crease and the booing but please stop booing once he plays with great skill,courage and incredible discipline !!! he deserves a standing ovation for that innings ... #Ashes #Lords

— Michael Vaughan (@MichaelVaughan) August 17, 2019
Boos coming in.
Smith coming out to bat. WOW! 😲And I can still hear boos. I mean.... #Ashes

— Kritika Naidu (@Kritzika) August 17, 2019
Last one.
There are boos for him now ... but he is back! pic.twitter.com/TJh4MukaRO

— Sam Landsberger 🗯 (@SamLandsberger) August 17, 2019
Steve Smith batted without an arm guard. Talking the second innings, Australia made 250 runs. as of now, England is batting on 96 with the loss of four wickets. Pat Cummins and Peter Siddle snapped a couple of wickets each.