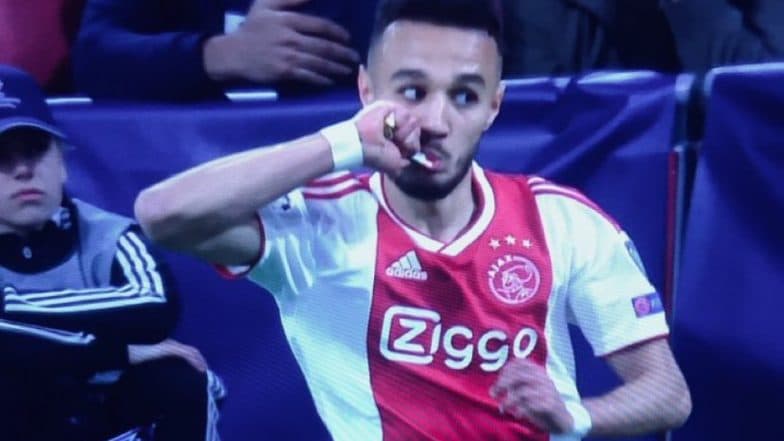 Muslims around the world are observing fasts as it is the Islamic holy month of Ramadan. Muslims abstain from eating or drinking anything between dawn and dusk and continue with their professional life. During Ajax's Champions League semi-final second leg clash against Tottenham Spurs, Hakim Ziyech and Noussair Mazraoui were both observing the fast. And after some 24 minutes into the match, the duo broke fast. Lucas Moura's Hat-Trick Against Ajax Takes Tottenham Hotspur to Champions League 2019 Final.
And interestingly, eleven minutes after breaking the fast, Ziyech went on to net a goal for Ajax. It was Ajax's second and last goal of the match. At that point in time, Ajax were leading by 2-0. Eventually, Lucas Moura's hat-trick helped Spurs not only draw level but take an unassailable lead in the match to set up a Champions League final clash with Liverpool. Ramadan 2019: Sunrisers Hyderabad Pacer Khaleel Ahmed Enjoys Sehri Meal With Rashid Khan, Yusuf Pathan and Mohammad Nabi.
Here's the video of Hakim Ziyech breaking fast
Hakim Ziyech are apparently fasting for Ramadan...Mashaalah brother ❤️😍 #AJATOT pic.twitter.com/QPItmz8ods

— Toufic_United (@Toufic_United) May 8, 2019
Another tweet
Mazraoui and Ziyech are apparently fasting for Ramadan and had to wait til the 24th minute of tonight's game before refueling. Whatever they had, certainly did the trick for Ziyech #AJATOT pic.twitter.com/95Op5s7NUi

— Matt Spiro (@mattspiro) May 8, 2019
Super talent
What is even more incredible from Ziyech is that he is FASTING right now for Ramadan. While playing in this #ChampionsLeague semi-final. And he scores THAT goal.... outrageous talent in this Ajax team. #CruyffWouldBeProud pic.twitter.com/mckI51bxqX

— Nick (@Nick28T) May 8, 2019
Ahead of the match, Raymond Verheijen, Dutch fitness coach, had advised Ziyech and Mazraoui to avoid fasting and termed it "irresponsible" to fast against Tottenham. "It would be irresponsible if Ziyech and Mazraoui stick to the fasting requirements of Ramadan at this stage of the season. Ajax's situation is extreme - everyone is aware of that." Verheijen told Mirror. Champions League 2019: Liverpool Thrashes Barcelona 4–3 on Aggregate, Reaches Final for Second Consecutive Time.
"The players' bodies will be deregulated, as they will be changing a pattern of training and diet of the past 11 months. If you do this now, in the ultimate performance weeks of the season, it is like throwing a spanner in a wheel. Their blood sugar level will be lower - and that means less and less energy. Not only does that make athletes less alert, it will also send weaker signals to the muscles of the body," he added.