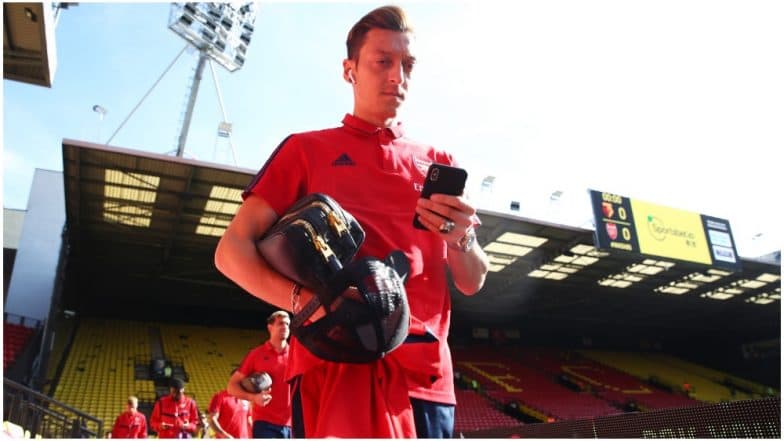 Arsenal fans welcomed Mesut Ozil's first start in 2019/20 season of the English Premier League. Ozil, who started just 12 times last season, was named in Arsenal's playing XI for their Premier League clash against Watford after French forward Alexandre Lacazette failed to recover from the ankle injury he had sustained during the Gunners' match against Tottenham Hotspur. Fans were delighted to see Ozil being named in the playing squad alongside Dani Ceballos and Matteo Guendouzi as Arsenal fielded a 4-3-1-2 formation. Netizens and gunners fans from across the globe let their happiness being known on seeing Ozil starting a game after almost two months. Zlatan Ibrahimovic Becomes the Only Player from MLS to Register Himself Amongst the FIFA 20's top 100 rankings.
Ozil, 30, was left out of Arsenal's first four Premier League games in 2019/20 season following a security threatening incident involving club-teammate Sead Kolasinac. He later struggled with illness keeping him out of the squad. But Lacazette's ankle injury, which ruled him out till October, made Uani Emery call up Ozil and give the German World Cup winner his first start since the Europa League final defeat to Chelsea last season.
Mesut Ozil Makes His First Start
📋 Today's team news...

〽️ @MesutOzil1088 makes first #PL start of the season

🇪🇸 @DaniCeballos46 returns to the starting XI

🇬🇦 @Aubameyang7 is joined in attack by Pepe 🇨🇮

#️⃣ #WATARS

— Arsenal (@Arsenal) September 15, 2019
#M10 is Back!!
🔴 #M1Ö is back! #WATARS pic.twitter.com/ThAw0MVOG8

— Arsenal (@Arsenal) September 15, 2019
The Guy Everyone Loves
MY GUY 🔥🔥🔥 pic.twitter.com/rVefo1CScU

— TheUnaiView (@TheUnaiView) September 15, 2019
Ozil is Back
Ozil is backkk

— mat (@qwerahmatyuiop) September 15, 2019
Ozil Finally Gets a Start
Ozil starts!!!!!!! Finally

— JUST CALL ME KACHI 🍕🍳🍲🍱🍛🍜 (@Chef_Kachi) September 15, 2019
Ozil Needs a Big Performance Today!!
Big game for Ozil, NEEDS a big performance

— 6'3 In Airforces (@ChinoOTR) September 15, 2019
Another Ozil Masterclass Incoming
YESSS. OZIL MASTERCLASS INCOMING

— AFC🔴SZN (@AFC_SZN_) September 15, 2019
Fans were also excited to see the playing XI named by coach Unai Emery for the Watford clash. New signings Nicolas Pepe and Dani Ceballos were both given starts and fans couldn't wait for both these players to link up with Ozil in the pitch. Many were also excited with the possibility of watching Pierre-Emerick Aubameyang, Pepe, Ozil and Ceballos interlink and play among themselves.
Victory Assured?
Ozil starting behind Auba and Pépé? Just give us the three points already @premierleague

— out of context mustafi 🔙 🔛 🔝 (@Abhimeyang) September 15, 2019
Finally the Pair We Had Waited For
Been ranting since NLD for Emery to play Ceballos and Ozil together. And finally he has. Love this gameee

— LTArsenal™ (@ltarsenal) September 15, 2019
It Is Time!!
Sad about Laca being out but Ozil, Pepe, and Auba starting! It's time #WATARS pic.twitter.com/kwikLqOIMt

— ismokedopelikekidcudi (@ahmedwitdafofo) September 15, 2019
Arsenal Can't to Wait to See Them
Ozil + Ceballos + Guendozi behind Auba and Pepe , it's going to be awesome

— Gunners Forward (@Gunners_Forward) September 15, 2019
Meanwhile, a lot has been made and talked about Emery not giving Ozil enough gameplay time, while others have complained of the German playmaker not taking his chances. Ozil only started 12 times last season and play a total of 24 games out of the possible 38 in the 2018/19 Premier League. He was rumoured to wanting to leave the club last winter and even this summer transfer window but has stayed back due to lack of offers.