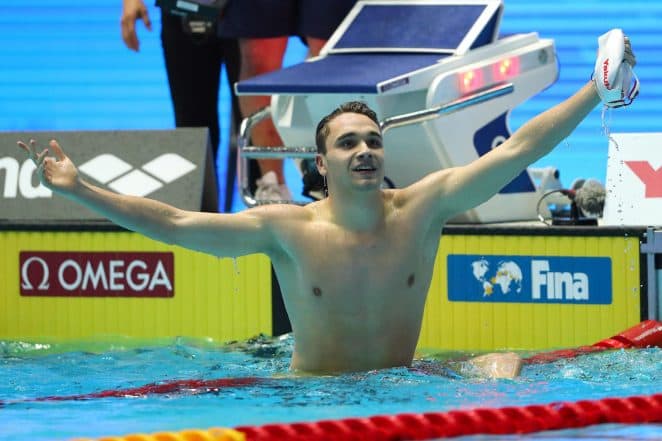 Teenage sensation Kristof Milak wrote his name into record books after smashing through Michael Phelps' 10-year-long world record in the 200m Butterfly event to win the World Aquatics Championships in Gwangju on Wednesday. Milak, 19, raced to a gold medal in the men's 200m Butterfly race clocking 1:50.73, which was over a second less than what Phelps had set in 2009. The youngster's achievements were soon all over media and social media responded with praises and congratulatory messages for this young kid. Kristof Milak Smashes Michael Phelps' 200m Butterfly Record to Win World Swimming Championships.
"It's a tremendous honour to beat such a great record," said the youngster from Hungary, who has already set his sights on the Tokyo Olympics. "Everyone will try to catch me, but I will be ready," Milak was quoted as saying by news agency AFP.
Kristof Milak Shatters Michael Phelps' World Record
STOP THE PRESSES! A fantastic new World Record from 19-year old Kristóf Milák of Hungary in the Men's 200m Fly beating Michael Phelps old mark of 1:51.51, set a decade ago in Rome, with a new time of 1:50.73…Outstanding! 💪👑#Swimming #FINAGwangju2019 pic.twitter.com/Qr2DiOGDG3

— FINA (@fina1908) July 24, 2019
Phelps, who announced his retirement from swimming after the 2016 Olympics, holds the record for most Olympic medals. He has won a total of 28 medals at the international multi-sports event, 13 of which were gold in individual events. Phelps has set the record of 1:51.51 in the 200m Butterfly race in 2009. The American legend, however, holds the feat of breaking a swimming world record at the age of 15.
Milak Sets New World Record in 200m
WR alert!! 🚨🚨🚨🚨

Kristof Milak sets a World Record stopping the clock in 1:50.73 in the 200m Butterfly! 🇭🇺

He beats @MichaelPhelps record from 2009! CONGRATS, Kristof! 💪💦🏊‍♂️#FINAGwangju2019 pic.twitter.com/XOTJaeEiwe

— FINA (@fina1908) July 24, 2019
Phelps Will Always Be King But Milak is the Prince
Phelps will always be the king of the 200 fly — he held the world record 18 years continuously, to the day, which is staggering. But Kristof Milak is the new prince.

— Pat Forde (@YahooForde) July 24, 2019
World Record!!
WORLD RECORD!!!!!!!!!!!!!! Kristof Milak takes down Michael Phelps' 200 fly WR with a blistering 1:50.73#Gwangju19

— SwimSwam Live (@SwimSwamLive) July 24, 2019
10-Year-Long Record Shattered
10 years after the ban on shiny suits Hungarian Kristof Milak takes down @MichaelPhelps 200 'fly WR in 1:50.73!!!

— StateOfSwimming.com (@StateOfSwimming) July 24, 2019
Breathtaking Record
OH MY. Hungarian 19-year-old Kristof Milak just broke Michael Phelps' 200 fly record and routes the field by three seconds. Breathtaking effort.

— Pat Forde (@YahooForde) July 24, 2019
World Records Broken
🦋⏰ World Records broken in the 200m Butterfly...

- 2019: Milák

- 2009: Phelps

- 2008: Phelps

- 2007: Phelps

- 2007: Phelps

Kristóf Milák has broken Michael Phelps' 10-year-record!#FINAGwangju2019 pic.twitter.com/VTd5tJas9S

— The Sportsman Stats (@SportsmanStats) July 24, 2019
Special Kid! World Record Holder
Two years ago I watched Kristof Milak 🇭🇺 prepare for the 2017 World Juniors. I had a feeling he was going to be something special. Now he is a world record holder 🌍 pic.twitter.com/VPhXocDFvC

— Andy Ross (@andy_ross4) July 24, 2019
Swim of Champion
Swim of the #Gwangju2019 meet so far 19-year-old Hungarian Kristof Milak just destroyed @MichaelPhelps WR and won by more than 3 seconds

— David Lyall (@davidlyall) July 24, 2019
Phelps Wouldn't Be Happy
Good Morning Michael Phelps, Your Record Was Shattered Overnight By 19-Year-Old Kristof Milak https://t.co/1Y8NYscUBU pic.twitter.com/G1qXgJis3j

— Siglov Freudivan (@DerangedRadio) July 24, 2019
Meanwhile, Daiya Seto of Japan and South Africa's Chad le Clos finished with silver and bronze medals respectively. Milka also holds the record 100m Butterfly race. He set the record in 2017 when he clinched a sliver.