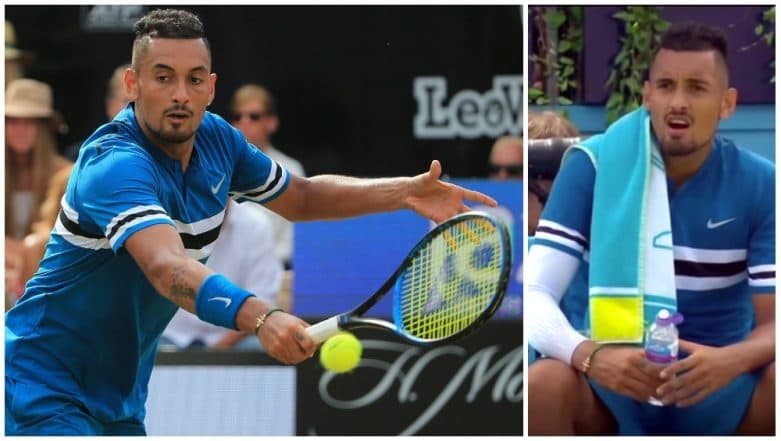 Nick Kyrgios was fined 15,000 Euros by Association of Tennis Professionals (ATP) for his obscene gesture during his match against Croatia's Marin Cilic at Queen's Club Championships on Saturday. Eventually, Kyrgios lost the semi-final match in straight sets 7-6 (7-3), 7-6 (7-4). Australia's Kyrgios, who made lewd gestures during the game, was also reported by tournament supervisor Lars Graff for 'inappropriate behaviour'.
In his quarter-final match against Cilic, a smirking Kyrgios was seen explicitly spoofing masturbation. During the break, the Australian ace was sitting on his arm-rest chair and was spotted making gestures of the act of self-pleasure.
Watch Australia's Nick Kyrgios Spoofing Masturbation on LIVE TV during Queen's Club Championship:
Kyrgios is not new to controversies. Last week, his constant use of 'f**ks' while he was playing against Kyle Edmund also drew a lot of unavoidable attention. Talking to media about the incident he had said, "The match was a bit tight in the match, which is normal. Do you swear?" In his match against John Millman in the US Open 2017, Australia's Kyrgios indulged into a heated argument and eventually dropped the F-bomb against the match referee too.