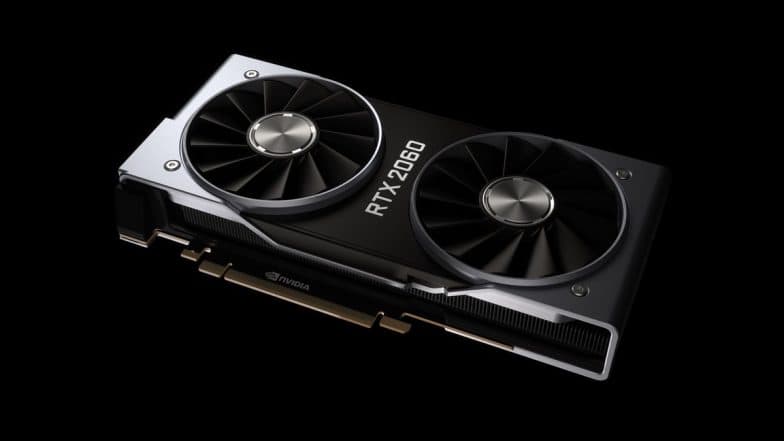 It was during the last summer when Nvidia officially unveiled the new GeForce RTX series graphics cards for Desktop PCs. The new graphics cards - RTX 2070, RTX 2080, and RTX 2080 Ti from Nvidia are designed for high-end gaming PCs. These GPUs comes with a new ray-tracing capabilities, which is a graphics technique that models light in real time as it intersects objects in a virtual scenes similar to Battlefield V. CES 2019 Date & Schedule: Consumer Electronics Show 2019 To Start From January 8 in Las Vegas.
Nvidia didnt reveal any details of introducing these RTX graphics cards beyond PCs at that point in time. However, the American tech giant has decided to take things further. During the press conference at the CES 2019, the company officially revealed that it will be bringing the new graphics chips to gaming laptops, which will also include mobile RTX 2080.
As Nvidia's GTX 1000 series made its way to notebook machines, the new RTX graphics cards will be introduced on over 40 laptops. According to the report from Verge, these laptops will be made available with RTX 2080 to RTX 2060 cards. The company has also claimed at the conference that chips will be compatible for running ray-traced games at 60 fps such as Battlefield V. Apple iTunes Movies, TV Shows To Make Debut on Samsung Smart TVs - Report.
Introducing GeForce RTX Laptops.

Bring the power of RTX GPUs on the go with over 40+ models rolling out starting January 29th.#CES2019 pic.twitter.com/zG5xaBllmg

— NVIDIA GeForce (@NVIDIAGeForce) January 7, 2019
Moreover, the Santa Clara-based company will be employing Max-Q technology on the chips for cutting the power consumption. This technology will also ensure these chips can be fitted inside the thin laptops. This signifies that all manufactures will have worked very closely on thermal and acoustic design aspects with Nvidia to ensure maximum efficiency.
The Verge also reported that the company claims at least 20 percent more performance from Nvidia RTX 2080 Max-Q when compared to GeForce GTX 1080 Max-Q. This new chip is expected to be 40 percent more efficient than the latter.
Nvidia stated that, "Max-Q models with GeForce RTX 2070 deliver up to 20 percent higher performance than the popular GTX 1070 on traditional games; and with GeForce RTX 2060 up to 50 percent higher performance on traditional games compared to GTX 1060."
The company has officially announced that the first laptops with RTX GPUs will make debut on January 29 on the machines from the makers such as Asus, Acer, Dell, Gigabyte, Lenovo, HP, Samsung, MSI and others.