Another Samsung device has burst into flames, and this time it is the Samsung Galaxy S7 Edge. A Reddit user named Rokhana from Morocco posted a picture of his burned Samsung Galaxy S7 Edge smartphone image, which seems to have caught fire due to overheating. The back panel of the device and its screen have been charred, exposing the battery. The Reddit user explained his traumatic incident on the post, which started off with him trying to take a photograph, during which the smartphone hanged. Samsung Galaxy Note 9 Smartphone Catches Fire; Victim Files a Lawsuit Against the Company.
Rokhana later tried to switch off the phone, which didn't happen and the smartphone's screen blacked out, but he thought that the phone had switched off. After some time, the user removed the device and placed it on the countertop to switch on the handset. New Apple iPhone XS Max, iPhones XS India Pre-orders Start Midnight Exclusively on Flipkart.
Luckily just before doing that, the phone automatically caught fire and damaged its internal circuits. The Reddit user says: "Literally no more than a couple seconds after putting it down the whole thing spontaneously went up in flames. I had a couple nearby towels catch fire too, thought my kitchen was gonna burn down for a moment." Realme 2 Pro: CEO Madhav Seth Confirms Snapdragon 660 SoC & Waterdrop Notch - Watch Video.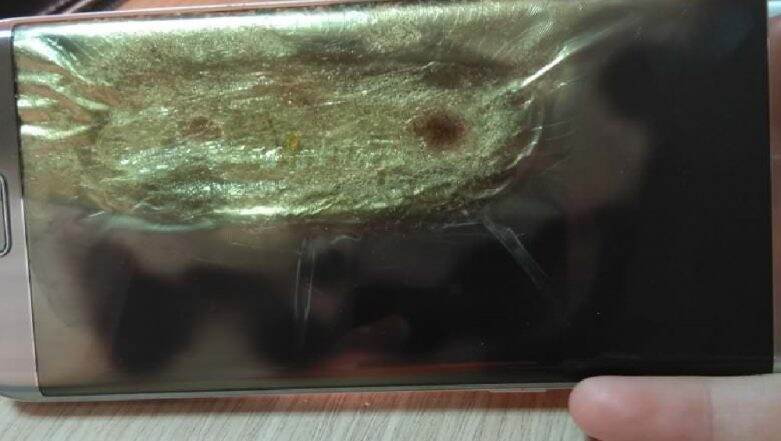 After that event, Rokhana tried contacting the Samsung service centre, where he was denied any repairs or services since the smartphone had already passed its warranty period. With this, Rokhana shared his thoughts about the device: "This was an expensive phone that I expected to last me longer, and certainly didn't expect to almost start a fire at my place." Google Introduces Emergency Call Service in the US to Locate Victims in Distress More Swiftly.
And ended the post by sharing his grief: "I loved my S7E and my previous Galaxy phones, but I think I'm kinda done with Samsung after this." Earlier this week in New York, A woman filed a complaint against the South Korean tech giant, demanding compensation against the damages and injuries occurred to her when the new Samsung Galaxy Note 9 burned inside her purse.