Sriharikota, July 22:  The Indian Space Research Organisation (ISRO) on Monday scripted history after successfully launching its ambitious second Moon mission- Chandrayaan-2 on Monday from the Satish Dhawan Space Centre (SDSC) at Sriharikota in Andhra Pradesh. The 640-tonne rocket Geosynchronous Satellite Launch Vehicle-Mark III (GSLV-Mk III), nicknamed the 'Baahubali', carried the Chandrayaan 2 spacecraft into space. The mission was aborted on July 15 after a technical snag was detected an hour prior to the rocket lift-off. On Sunday, the countdown for Monday's Rs 978 crore Chandrayaan-2 mission progressed smoothly, ISRO said. Chandrayaan 2 Explained! When Will ISRO's GSLV-Mk III Reach Moon And What Will Happen After That?
After the successful launch, ISRO Chief K Sivan said he is extremely happy to announce that the GSLVMkIII-M1 successfully injected Chandrayaan 2 spacecraft into Earth Orbit. He said after that technical snag that ISRO faced on July 15, they fixed it and now ISRO has bounced back with flying colours. "It is the beginning of a historic journey of India towards moon & to land at a place near South Pole to carry out scientific experiments", Sivan said.
The 'Baahubali' rocket carried the 3.8-tonne Chandrayaan 2 rocket which has three modules namely Orbiter, Lander (Vikram) and Rover (Pragyan). In about 16-minutes into its flight, the GSLV-Mk III rocket injected the Rs 603 crore Chandrayaan-2 into an Earth parking 170x40400 km orbit.
Watch the Stunning Video of Chandrayaan- 2 Taking Off From Sriharikota:
India's🇮🇳 most powerful launcher till date, #GSLVMkIII 🚀 lifts-off for the 🌑Moon with #Chandrayaan2 from #Sriharikota#ISROMissions #ISRO pic.twitter.com/jYV3VurihQ

— PIB India (@PIB_India) July 22, 2019
Chandrayaan-2 Countdown Started at 6.43 PM on Sunday
The countdown for the launch of India's second lunar mission- Chandrayaan 2, started at 6.43 PM on Sunday, ISRO chairman K. Sivan has said. The rocket and spacecraft's systems also underwent checks and fueling during the countdown. About 16-minutes into its flight, the Rs 375-crore GSLV-Mk III rocket is expected to sling the Rs 603-crore Chandrayaan-2 into its 170x40400-km orbit.
ISRO Rectified the Technical Glitch After Aborting the Mission
After ISRO called off the ambitious lunar mission on July 15 after a technical fault, it later rectified the fault in its 44-metre Geosynchronous Satellite Launch Vehicle-Mark III (GSLV-Mk III). The ISRO had constituted an expert committee to go into the root cause of the snag. Weighing about 640-tonne, the GSLV-Mk III rocket is nicknamed 'Bahubaali' after the hero of a successful film of the same name. The ISRO officials were quoted by IANS saying that the fault was rectified at the second launch pad itself where the rocket has been positioned for the July 22 launch.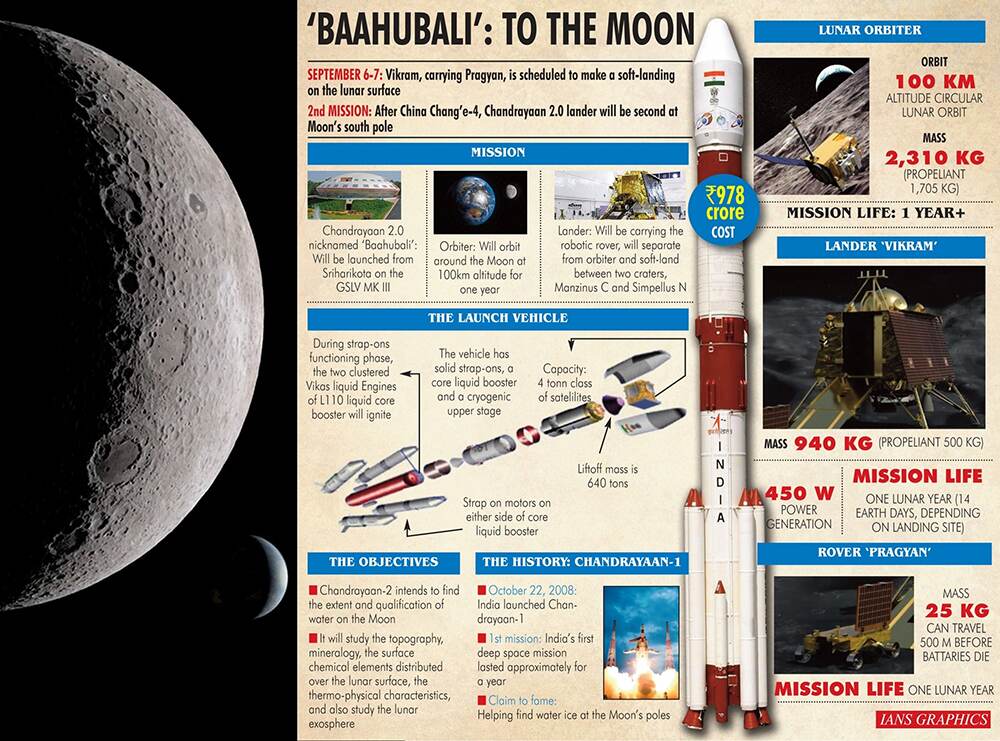 7,500 People Register Online to Witness Launch
To witness the spectacular show, a total of 7,500 persons had registered online with the ISRO to watch India's heavy lift rocket Geosynchronous Satellite Launch Vehicle-Mark III (GSLV-Mk III) roaring towards the skies carrying Chandrayaan-2 spacecraft on Monday afternoon, it is learnt.
Chandrayaan-2 Rover-Lander Tested on 'Moon Surface' Created With Salem Soil
The ISRO had taken great efforts so that its moon lander-Vikram, can make a safe and soft-landing and rover- Pragyaan, can move around. The moon's surface is covered with craters, rocks and dust and its soil is of different texture as compared to earths. M. Annadurai, who retired as Director, U.R. Rao Satellite Centre (URSC) told IANS that the surface of the earth and that of the moon are entirely different, so they had to create an artificial moon surface and test our rover and lander.
According to reports, many geologists had told ISRO that near Salem in Tamil Nadu there were 'anorthosite' rocks that would be similar to features of moon soil or regolith. The ISRO finalised to take the 'anorthosite' rocks from Sithampoondi and Kunnamalai villages in Tamil Nadu for moon soil.
Chandrayaan 2: Where Is The Spacecraft Now & When It Will Reach The Moon; Know ISRO Mission's Path
So far, ISRO has sent up three GSLV-Mk III rockets so far. The first carried Crew Module Atmospheric Re-entry Experiment in December 2014. The second and third GSLV-Mk III carried communication satellites GSAT-19 and GSAT-29 in February 2017 and November 2018 respectively.