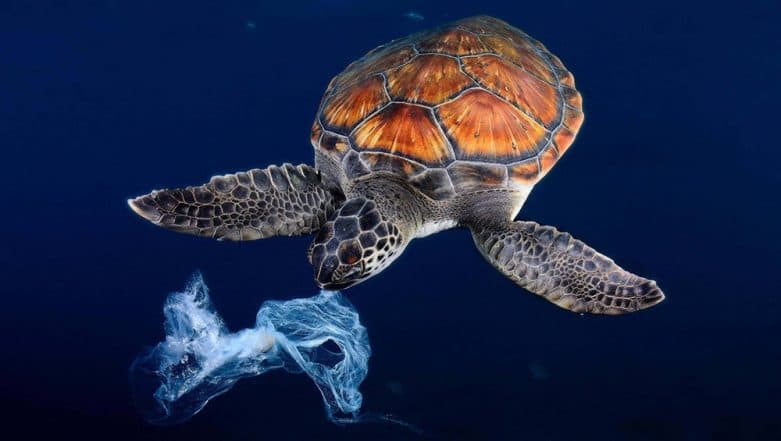 Plastic pollution is huge and it is difficult to control it, the one that has already polluted the oceans is almost impossible to recover. Tonnes of plastic waste has already been dumped out there and it has started taking a toll on marine life. Many fishes have been washed ashore on different beaches and it has found that their stomachs were filled with plastic waste. A new study conducted recently has revealed the extent of plastic pollution in all seven oceans. On studying more than 100 turtles from different species and all from different oceans it was found that all turtles had microplastics in their gut. Dead Sperm Whale With 6kg Plastic Waste Inside Stomach Including Cups, Flip-Flops & Bottles Found in Indonesia's Wakatobi National Park (See Pics).
The study's aim was successful but the findings are really a failure for the humans. The findings have been published in Global Change Biology. Nearly all species of turtles have microplastics in their system. Talking about the study the co-author of the study Penelope Lindeque was quoted, "From our work over the years we have found microplastic in nearly all the species of marine animals we have looked at, from tiny zooplankton at the base of the marine food web to fish larvae, dolphins and now turtles." Baby Turtle Poops Plastic That it Swallowed in The Ocean, Watch Shocking Video.
To go about conducting this study, researchers used an advanced method of digestion examination. The samples were collected from 102 sea turtles and were examined through a digital stereo microscope looking for bits of plastic. A total of 800 particles were found in total, which comes from fibres of synthetic clothing, tyres, cigarette filters and ropes. The larger pieces of plastics can cause greater problems in the survival of the species. They can cause a blockage of the respiratory system. The entire study reflects on the damage that has already been done to the ocean life and we need to act to reduce the effects in the future.