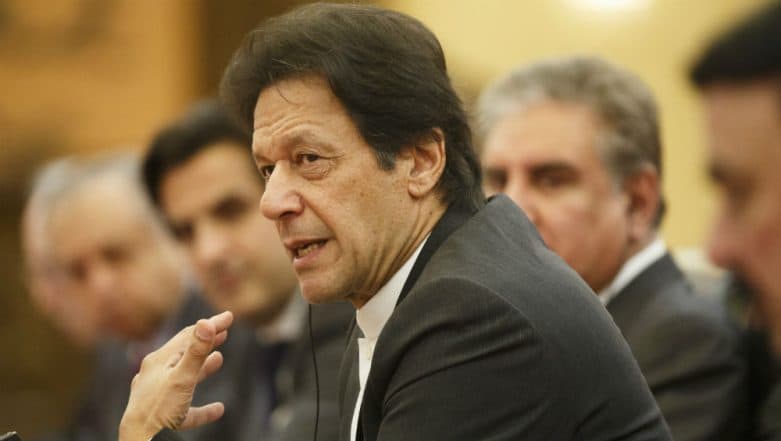 Toronto, February 27: Pakistan has resorted to incessant firing along the Line of Control in Jammu & Kashmir after India confirmed that the Indian Air Force had struck deep inside Pakistani territory to target Jaish-e-Mohammad training camps in the pre-dawn hours of February 26.
But the macro-factors that confront Pakistan today mean that Imran Khan's government and his army are not in a position to retaliate to what they have termed as "uncalled for aggression by India."
Despite Pakistan's promise of "we will retaliate at a time and place of our choosing" the fact on the ground is that Pakistan's government cannot afford a war with India today.
Economic Factors:
It was just weeks ago that Pakistan's Prime Minister Imran Khan personally lent his weight to his government's request to Christine Lagarde for a bailout package from the International Monetary Fund. Pakistan is hoping for a $12 billion loan from the IMF to help fill its coffers as it is currently staring at an exhausted foreign-exchange reserve, the government is running twin current-account as well as budget deficits of more than 5 percent of gross domestic product and its own economists have warned that inflation in the country is likely to double this year. In Pakistan Finance Minister Asad Umar's own words, "We are heading towards bankruptcy very fast. We have to save 210 million Pakistanis."
If Pakistan chooses to declare war against India, it is highly unlikely the IMF will fund Pakistan if it prioritises war instead of its own economy. Moody's has cut Pakistan's credit outlook to negative and Pakistan's own economists are predicting that the country's economy will grow at a much slower pace than last year.
Hence, in order to secure international loans in order to breathe life into the country's economy, Pakistan will have to prove that it is working to shore up its economy and not diverting funds to its military for a future confrontation against India.
International Support for India:
The Pulwama Attack has brought the world's censure on Pakistan especially since India has been consistent with its message that Pakistan uses terrorists to target Indian forces as well as cause mayhem in Jammu & Kashmir. Within a week of India losing 44 CRPF soldiers in the terror attack, UNSC members unanimously condemned the attack and called upon Pakistan to "leave no stone unturned to hold perpetrators, organisers, financiers and sponsors of these reprehensible act of terrorism accountable."
The UNSC statement re-affirmed India's right to act against terror groups through its statement, "The need for all States to combat by all means, in accordance with the Charter of the United Nations and other obligations under international law, including international human rights law, international refugee law and international humanitarian law, threats to international peace and security caused by terrorist acts."
Moreover, India's statement after carrying out the Balakot strike used the international law doctrine of pre-emptive self-defence to justify the air strikes. India said that the Balakot strike had become imperative in the face of "imminent danger" posed by JeM camps based in Pakistan which were planning "multiple fidayeen attacks" across various targets in India. The doctrine of pre-emptive self-defence says a nation has the right to act in self-defence before an armed attack takes place against them, provided there is a necessity to act which was "instant, overwhelming, leaving no choice of means, and no moment for deliberation." In the face of the Pulwama attack as well as citing "intelligence sources" India used this law to back up its right to carry out the air strikes in Balakot.
Pakistan's erstwhile ally the U.S. too has come down hard on Islamabad for harbouring terror groups which has lost Pakistan support in the international arena. The U.S. has learnt that Pakistan cannot be trusted the hard way with fighting the Taliban in Afghanistan which has been supported by Pakistan as well as finding Osama bin Laden safely ensconced in Abbottabad, deep inside Pakistani territory.
Pakistan is hence under international pressure to show that it is acting against terror groups on not differentiating them on the basis of "good terror groups" and "bad terror groups."
Since assuming office, Imran Khan has made no meaningful outreach towards New Delhi that shows his genuineness in achieving peace and stability in the South Asian sub-continent.
The easiest gesture for Pakistan to show it is serious towards India's concerns is acting against terrorists like Hafiz Saeed and Masood Azhar, both who have been named by India as being the masterminds behind terror attacks such as Mumbai 26/11 and the Pathankot attack.
India has the ability to monitor movements in terror camps based in Pakistan-occupied-Kashmir hence shutting down these would go a long-way towards instilling some faith that Islamabad wants peace with India.
These factors hence compel Pakistan to make the first step of outreach to India as Islamabad is in the international arena, no longer the victim but the perpetrator of multiple "heinous and cowardly" assaults against India.