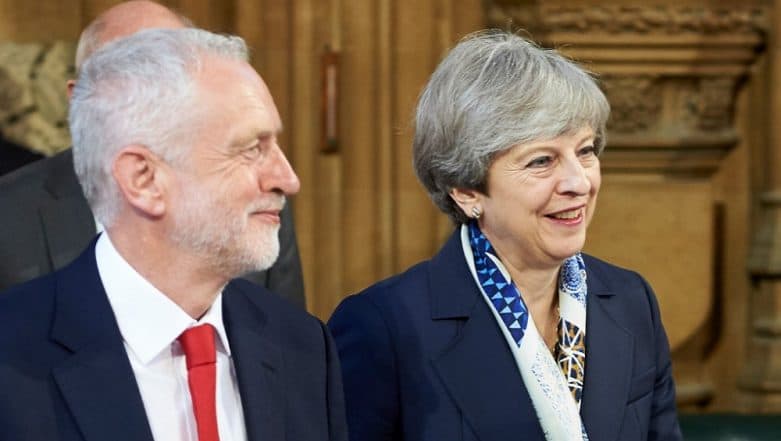 London, January 1: Ahead of the crucial vote on Theresa May-proposed Brexit deal in the UK Parliament next week, Leader of Opposition Jeremy Corbyn lambasted the Prime Minister in his New Day message for the nation. The Labour chief said May, and the ruling Conservative Party, should be held squarely responsible for plunging the country into an unprecedented crisis.
Corbyn, who emerged at the helm of Labour after ousting the Blairites in 2017, said the plight of UK could only be relieved if the incumbent government is uprooted. If the Labour is elected to power, he said, Britain would be much better poised to negotiate a "respectable deal" with the European Union. Bank of England Warns 'No-Deal Brexit' Would Push UK into 2008-Like Recession.
"The Conservatives have plunged the country into a crisis over a complete mess they've made of Brexit, trying to drive through a bad deal and letting people down all across the country, whether they voted leave or remain," Corbyn said in a video message.
Corbyn's scathing remarks comes days before May seeks cross-party support in the House of Commons for the passage of amendments to the European Union Withdrawal Act, 2018. The Parliament is scheduled to reconvene on January 7, and the voting is expected to be held before January 14.
Watch Corbyn's New Year Day Message:
Happy New Year.

In 2019, let's rebuild Britain for the many, not the few.#NewYearsDay #NewYears2019 #HappyNewYear2019 pic.twitter.com/imdNoHqjQj

— Jeremy Corbyn (@jeremycorbyn) January 1, 2019
Corbyn went on to claim that the eight years of Tory rule has turned UK into a den of unemployment, lack of affordable healthcare and education. The country is "deeply divided", he said, adding that "millions are struggling each day to make ends meet".
The Labour, on the other hand, offers a radical alternative which could unit the nation and once again transform the UK into a thriving economy, Corbyn said. "In 2019, let's Britain for the many, not the few," he concluded saying.
Corbyn was not alone in condemning May for "demoralising" the nation through her handling of Brexit. Liberal Democrats leader Vince Cable said the future generations would not forgive the current leadership if it ends up ceasing UK's "influence" in the the European Union -- "the world's biggest marketplace".