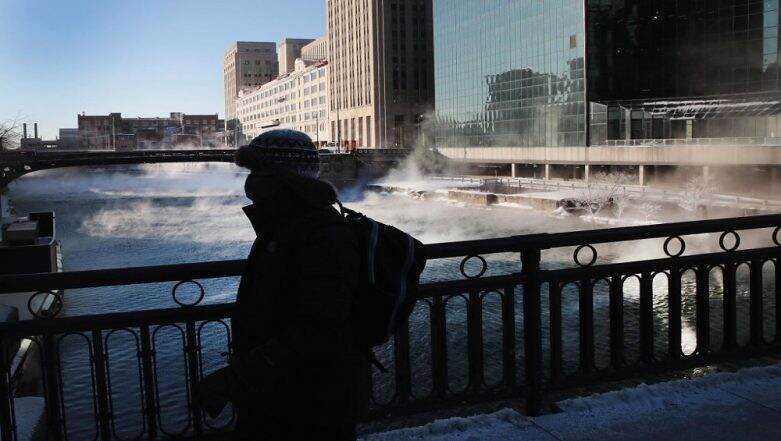 Chicago, January 30: The Northern Illinois city of Chicago has recorded an all-time low temperature of -28 degree celsius, with weather panels claiming that the wind chill brought by the polar-vortex will give the residents -51 degree-like feel. The situation has prompted the authorities to issue a high-level alert, with Chicago Mayor Rahm Emanuel directing people not to venture outside their homes unless required.
The last time when Chicago weather recorded an all-time plunge dates back to January 20, 1985 -- when the city faced a temperature of 27 degrees below zero. Polar Vortex: US Braces For Antarctica-Like Weather.
Three other instances when Chicago faced a freezing weather below the -20-mark dates back to 1982 -- when -26 degree was recorded on January 10 and -25 degree on January 26 -- and 1983, when -25 degree was recorded on December 24, 1983.
The extreme weather situation, this time, has been created due to the polar vortex -- a state of climate witnessed usually around the North and South Poles. The impact of the vortex has, however, crossed into the United States this year. An "Antarctic-like wind chill" is being experiences across the Midwest region.
Chicago is the worst-hit as hundreds of schools and colleges have been shut down, and over 1,300 flights being cancelled to and fro from the city. The situation is grave to an extent where the administration has constructed over 200 makeshift "warming centres" on immediate basis to accommodate nearly 80,000 "rough sleepers".
The US Postal Service has abandoned all their deliveries over the next few days, whereas, shipments and other logistic supplies have also cancelled as all liquid commodities, including bear, will be freezed in the extreme cold temperature. The National Weather Service has warned Chicago residents of frostbites, claiming that they will be diagnosed with the precarious medical condition even if they spent only 10 minutes in the open.