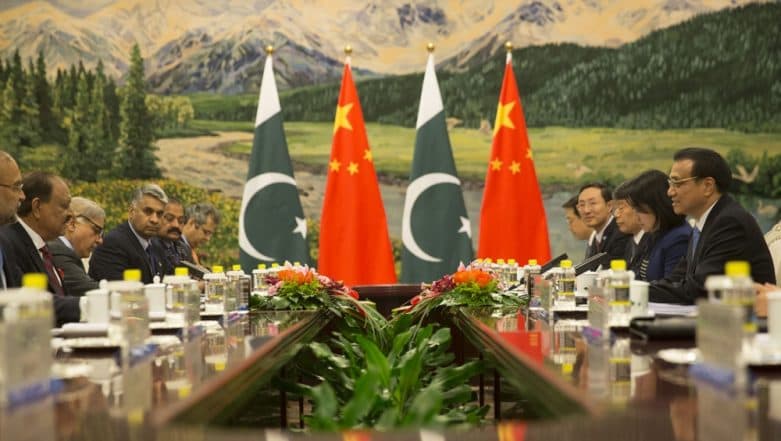 Islamabad, December 27: The China-Pakistan Economic Corridor (CPEC) will cost the government in Islamabad nearly $40 billion in the next 20 years, a leading Pakistani daily reported citing documents accessed from the Ministry of Planning and Development. The debt repayment is against an estimated investment by Beijing and Chinese private firms to the tune of $26.5 billion.
The above stated investment will be periodically pumped into Pakistan over the next four years, and is expected to be dried up by 2022-23. As per the estimates shared by the Imran Khan government with the International Monetary Fund (IMF), Islamabad would be repaying China around $2 billion per annum for the next 20 years. Pakistan Takes U-Turn; Says Saudi Won't Be Part of China-Pakistan Economic Corridor.
Precisely, the debt repayment would amount to $39.83 billion, reported The Express Tribune, adding that $28.43 billion of the total debt repayment would be accounted to energy and infrastructure projects, whereas, the remainder would be paid in form of dividends to the investors.
The amount of loan repayment estimated by the government is significantly lower than what experts had opined. Media across the world had claimed that Islamabad would be gripped under a "debt trap" of $50 billion to $62 billion due to the CPEC. The actual numbers, however, are way down at $26.5 billion.
Of the total Chinese investments, the loans borrowed from the government amount to $5.9 billion -- which have been lent at the lowest interest rates, ranging from 2 per cent to 5.2 per cent.
The commercial loans have been granted at an interest rate of London Interbank Offered (Libor) plus 4.5 per cent. What is expected to sting Islamabad in the long-run is dividends which have to be returned, which in some cases is as high as 34.2 per cent. The return on equities will drain out the Pakistani exchequer of $11.3 billion.