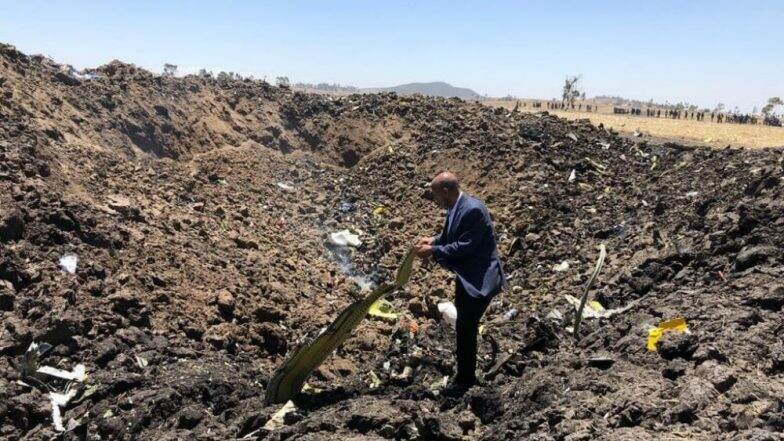 New Delhi, March 10: An Ethiopian Airlines flight crashed shortly after takeoff from Ethiopia's capital on Sunday morning, killing all 157 on board, including Indians. Four Indians also lost their lives in the tragic incident which is one of the worst aviation tragedies in recent years. Ethiopian Airlines Flight ET302 En Route to Nairobi from Addis Ababa Crashes With 149 Passengers And 8 Crew Members on Board, No Survivors.
External Affairs Minister Sushma Swaraj said that the Embassy of India in Ethiopia informed her that the deceased Indian nationals in the Ethiopian Airlines ET 302 Flight Crash have been identified as Vaidya Pannagesh Bhaskar, Vaidya Hansin Annagesh, Nukavarapu Manisha and Shikha Garg.
More than 30 nationalities are among the dead. It was not immediately clear what caused the crash of the Boeing 737-8 MAX plane, which was new and had been delivered to the airline in November.
News Agency ANI tweeted about the number of Indians who lost their lives in the unfortunate incident. Read the tweet below:
Ethiopian Airlines: Four Indians among the 157 people who lost their lives after Addis Ababa-Nairobi flight crashed, earlier today. pic.twitter.com/EcU3YI6FTY

— ANI (@ANI) March 10, 2019
The first pictures of the crash were also put out by the airlines, which shows the wreckage after the accident.
The airline later published a photo showing its CEO standing in the wreckage. Little of the plane could be seen in the freshly churned earth, under a blue sky.
"Tewolde Gebremariam, who is at the accident scene now, regrets to confirm that there are no survivors," the post on social media said. "He expresses his profound sympathy and condolences to the families and loved ones of passengers and crew who lost their lives in this tragic accident."
The plane had showed unstable vertical speed after takeoff, air traffic monitor Flightradar 24 said in a Twitter post. Visibility was clear. State broadcaster EBC reported that 33 nationalities were among the victims. The airline's CEO said those included 32 Kenyans and nine Ethiopians. Authorities said other victims include 18 Canadians; eight each from China, the United States and Italy; seven each from France and Britain; six from Egypt; five from the Netherlands and four each from India and Slovakia.