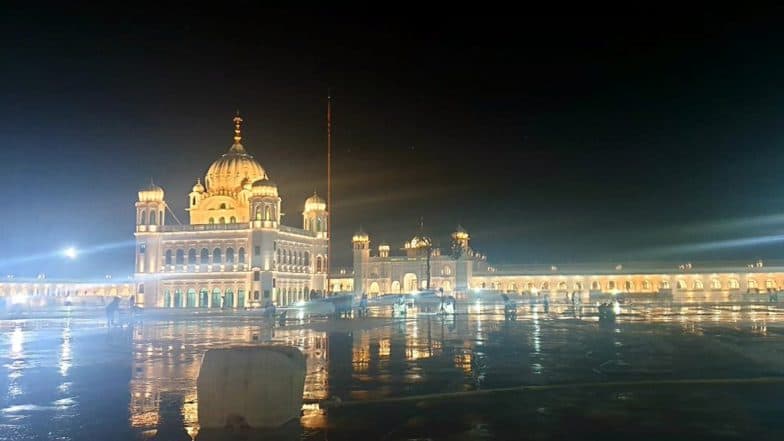 Islamabad, November 3: Imran Khan, Pakistan Prime Minister on Sunday shared several dazzling pictures of the Kartarpur complex and Gurdwara Darbar Sahib ahead of the planned inauguration of the Kartarpur corridor on November 9. Taking to micro-blogging site Twitter, Khan lauded the completion of work in record time and congratulated the Pakistani government for readying the Kartarpur Complex. In a another tweet, Khan said that the revered venue is now ready to welcome the Sikhs pilgrims for the 550th birth anniversary celebrations of Guru Nanak Dev.
The year 2019 marks the 550th birth anniversary year of Sikhism founder Guru Nanak Dev, whose birthplace is Sri Nankana Sahib in Pakistan. Khan had earlier abolished the condition of passport for the Sikh pilgrims coming to Kartarpur and the service fee of USD 20 dollars for those coming for the inaugural ceremony and on the 550th birth anniversary of the Sikh Guru on November 12. Kartarpur Corridor Online Registration: How to Apply? Documents Required, Pilgrimage Fee & Other Details.
Take a Look at The Dazzling Images of the Kartarpur Complex:
I want to congratulate our govt for readying Kartarpur, in record time, for Guru Nanak jee's 550th birthday celebrations. pic.twitter.com/dwrqXLan2r

— Imran Khan (@ImranKhanPTI) November 3, 2019
سکھ یاتریوں کے خیر مقدم کیلئے کرتار پور پوری طرح تیار ہے۔ pic.twitter.com/2rkHfsyztM

— Imran Khan (@ImranKhanPTI) November 3, 2019
The massive Kartarpur Corridor will connect the Dera Baba Nanak shrine in India's Punjab with Darbar Sahib at Kartarpur, which is just 4 kilometres from the International Border. It is located at Narowal district of Pakistan's Punjab province. Kartarpur Corridor: How to Reach Dera Baba Nanak to Visit Kartarpur Sahib Gurudwara in Pakistan From Various Cities of India.
In 2018, India and Pakistan had agreed to open the corridor on the occasion of the 550th birth anniversary of the first guru of Sikh, Guru Nanak Dev. Pakistan had said that it will build the corridor from the Indian border to the Gurdwara Darbar Sahib in Kartarpur, while the other part from Dera Baba Nanak in Gurdaspur up to the border will be constructed by India.
India and Pakistan have decided that 5,000 pilgrims can visit the shrine everyday. Moreover, additional pilgrims will be allowed on special occasions, subject to capacity expansion of facilities by the Pakistani side. Both the nations have also decided that the corridor will be operational through the year and seven days a week and that pilgrims, except kids and elderly persons, will have a choice to visit it as individuals or in groups.