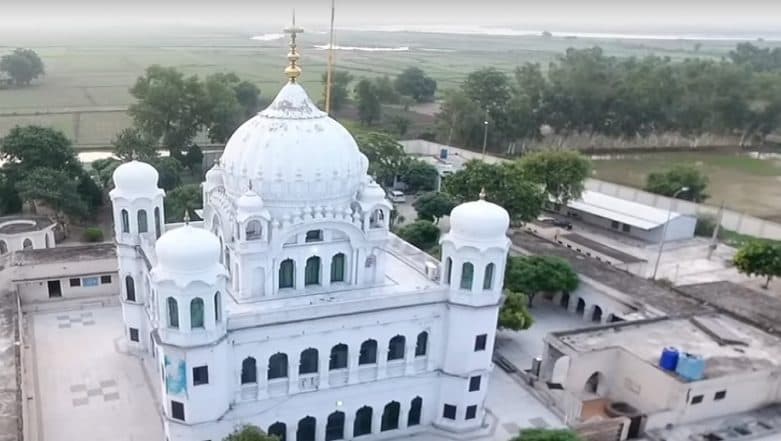 Gurdaspur, November 26: Vice-President Venkaiah Naidu on Monday laid the foundation stone of Kartarpur corridor in Gurdaspur district of Punjab. Recently, both India and Pakistan agreed to build the corridor linking Indian town of Dera Baba Nanak to a historic gurudwara in Pakistan's Kartarpur where Guru Nanak Dev spent the last 18 years of his life. On November 22, Home Minister Rajnath Singh announced the decision to open the corridor. Responding to India's request, Pakistan announced the construction of the corridor on its side. Navjot Singh Sidhu Accepts Pakistan's Invitation to Attend Opening Ceremony of Kartarpur Corridor, Writes to MEA for Permission.
Pakistan Prime Minister Imran Khan will lay the foundation stone of the religious corridor on November 28. It will be opened for Sikh pilgrims on the 550th birth anniversary of Sri Guru Nanak Dev. Speaking at the event on Monday, Chief Minister Captain Amarinder Singh, hit out at  Pakistan Army Chief Qamar Javed Bajwa over the increasing incidents of ceasefire violations. The Punjab chief minister said, "Which Army teaches to violate ceasefire and kill jawans on the other side? Which Army teaches to send people to attack Pathankot and Amritsar? This is cowardness."
Five things you should know about the Kartarpur Corridor:
HOW TO REACH DERA BABA NANAK:
Nearest Railway Station:
Kartarpur Sahib is around six kilometres from the Indian town of Dera Baba Nanak. Though the Dera Baba Nanak has a railway station, Gurdaspur and Amritsar are major stations, which are close to the border town where inter-state trains halt. From Gurdaspur, it is around 40km, and from Amritsar, it is 45km. However, Amritsar has better road connectivity to Dera Baba Nanak as compared to Gurdaspur. Pilgrims coming from Delhi are advised to take a bus from Amritsar to visit the corridor, while people from Jammu and Kashmir and Himachal Pradesh can take a route through Gurdaspur to reach the corridor. Punjab CM Amarinder Singh's Name on Kartarpur Foundation Stone Black-taped by His Minister Sukhwinder Singh Randhawa.
Nearest Airport:
The nearest airport to Dera Baba Nanak is Sri Guru Ram Das Airport, Amritsar. Pilgrims travelling from abroad or from other Indian states can take a flight to Amritsar, and take a cab or a bus to visit the corridor. The distance between Kartarpur Sahib and Indian Border is four kilometres (approx.).