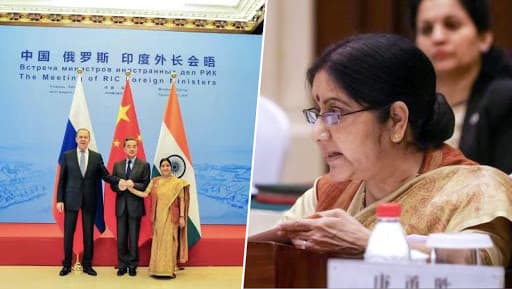 Zhejiang, February 27: Supporting India's stance to fight terrorism in sub-continent, China and Russia have issued a joint statement against terrorism, without naming Pakistan during the tri-lateral summit at the 16th Russia-India-China Foreign Ministerial Meeting in Zhejiang on Wednesday.
The Ministry of External Affairs issued the joint statement on their official website claiming that all the foreign minister of the three countries - India, China and Russia - condemned terrorism in all its forms and manifestations. US Asks Pakistan to Take Meaningful Action Against Terrorist Groups Operating in its Soil, Appeals to India to Maintain Peace. 
It stated, "The Ministers strongly condemned terrorism in all its forms and manifestations. They called on the international community to strengthen UN-led global counter-terrorism cooperation by fully implementing the relevant UN Security Council (UNSC) resolutions and the Global Counter-Terrorism Strategy in accordance with the Charter of the United Nations and the principles of international law, while respecting sovereignty and independence of all states, and expeditiously finalizing and adopting the UN Comprehensive Convention on International Terrorism at the earliest. They reiterated that states and their competent agencies play a central role in both national and international counter-terrorism efforts. They also stressed that terrorist groups cannot be supported and used in political and geopolitical goals."
Joint Communique of the 16th Meeting of the Foreign Ministers of the Russia-India-Chinahttps://t.co/cj4uuQ7bps pic.twitter.com/u8BJ92rTtp

— Indian Diplomacy (@IndianDiplomacy) February 27, 2019
The foreign ministers equivocally stated the terrorists or those orchestrating them must be brought to justice. It said, "The Ministers stressed that those committing, orchestrating, inciting or supporting terrorist acts must be held accountable and brought to justice in accordance with existing international commitments on countering terrorism, including the UN Global Counter-Terrorism Strategy, relevant UN Security Council resolutions and the FATF standards, international treaties, including on the basis of the principle 'extradite or prosecute' and relevant international and bilateral obligations and in compliance with applicable domestic legislation."
In the 34-point joint foreign ministers' statement, every aspect related with rising terrorism in Asia, traded ties, nuke threats by Iran, Syrian issue, information and communication technologies (ICTs) and others were discussed in details. However, Pakistan's name was not mentioned in the report.
Earlier speaking at the event, EAM Sushma Swaraj stated she raised the Pulwama terror attack in Kashmir by Jaish-e-Mohammad terrorists on February 14. She said, "As far as Pulwama is concerned, I had raised this issue in the bilateral meeting with Mr Wang Yi and also at RIC (Russia-India-China) forum." Adding more, she said, "We need a global strategy, global cooperation. I'm happy to tell you today we discussed the establishment of UN-led global counter-terrorism mechanism & finalising CCIT (Comprehensive Convention on International Terrorism) proposed by India to implement it." Pakistan Foreign Minister Shah Mehmood Qureshi to Skip OIC Meet Due to Sushma Swaraj's Presence as 'Guest of Honour'. 
Swaraj asserted that terrorism is a threat to humanity. She said, "You heard the address by Mr Wang Yi, he said, "We will cooperate to eradicate breeding ground of terrorism & extremism." It's not just a joint strategy but also our commitment...Terrorism is a threat to humanity, so strategy by the 3 countries is not enough."
Swaraj was co-chairing the 16th Russia-India-China Foreign Ministerial Meeting with Russian FM Sergey Lavrov and Chinese State Councilor & FM Wang Yi.
Advisory: We request our readers to wait for an official word from Indian officials before reaching any conclusions or circulating messages on social media.