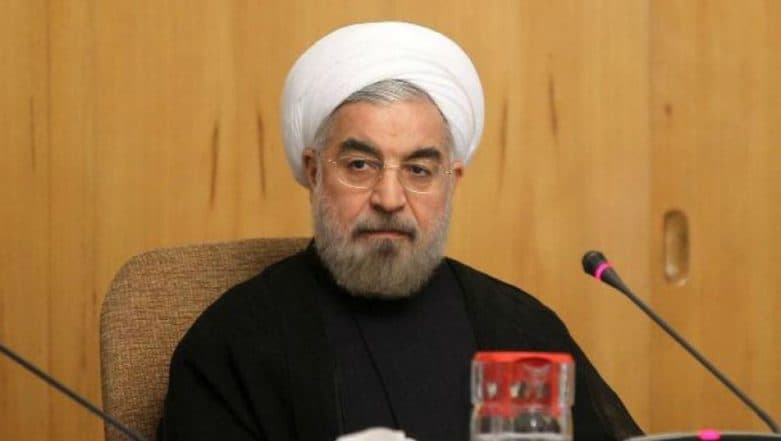 Tehran, May 12: Signalling further escalation with arch-rival the United States, Iran President Hassan Rouhani has told the country's semi-official news agency IRNA that the Islamic Revolution faces its most stringent challenge in the days to come. The cleric-cum-head of state said the nation may face a situation which could be far worse than the 1980-88 Iraq war.
In the three-decade old military confrontation with the warring neighbour, none from the international community had slapped Iran with sanctions on import, export and oil sales. The restrictions were only imposed on arms purchase, Rouhani recalled, comparing it with the crippling sanctions on crude exports imposed against it by the Donald Trump regime since last year. US-Iran Tension Escalates: Trump Regime Sends Patriot Air Defence Missile System, Warship to Middle East
"Today, it cannot be said whether conditions are better or worse than the (1980-88) war period, but during the war we did not have a problem with our banks, oil sales or imports and exports, and there were only sanctions on arms purchases," the President was quoted as saying by IRNA.
Rouhani's remarks comes a day after the United States deployed its Patriot air defence missile system, along with a warship which would be stationed at the Al Udeid air base in Qatar.
While Washington has cited the aerial threat posed by Iran to deploy its missile defence battery in the Middle East, Tehran has alleged that the US is looking for a "frivolous" triggering point to begin war.
Rouhani said Iran, similar to all the challenges it has been subjected to since Imam Ayatollah Khomeini's 1979 revolution, will overcome the threat posed by the Trump regime in US. However, various factions within the nation need to remain united, he stressed.
The President's unity appeal comes in the aftermath of severe flak he has drawn from hardline groups, who have condemned Rouhani for sticking to the 2015 nuclear deal despite his US counterpart expressing dismay over the pact since 2017. Further, his handling of the economic and employment issues have also disenchanted his moderate allies and progressive supporters.