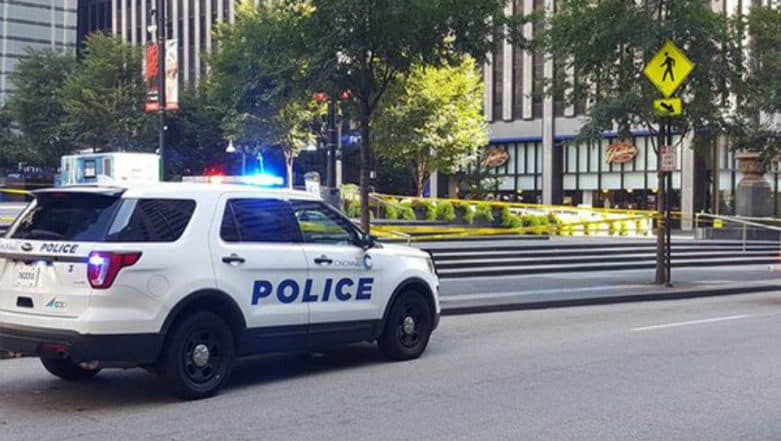 A woman killed three people and wounded three others before fatally shooting herself at a drugstore distribution centre on Thursday in Maryland, U.S.
A law enforcement official who conducted a briefing on the incident said the shooter was at some point a security guard at the Rite Aid support facility where the shooting occurred. Rite Aid spokeswoman Susan Henderson said roughly 1,000 employees work at the distribution center, where products are received and processed for delivery. "The shooting happened adjacent to the primary building," she said.
The woman, identified as one Snochia Moseley, 26, was a temporary employee and showed up for work at her normal time at the facility near Aberdeen. The shooter used a 9 mm Glock pistol and brought several magazines for the gun, an officer said at a news conference. The gun was hers and was purchased legally, he said. She shot people outside the building and on the warehouse floor and the woman died at a nearby hospital after shooting herself in the head, he said.
The law enforcement officials are yet to identify a motive for the shooting but one report suggests that the shooter was a disgruntled employee.
Two of the victims were stable and doing well, while two remain seriously injured. All the victims were out of surgery, according to the hospital treating the shooting victims.
Mass shootings carried out by women are rare, with more than 95% of such attacks in the U.S. carried out by men. But, this incident of a mass shooting is unfortunately not rare. Multiple mass shootings have occurred across the U.S. in just the past two days — at a courthouse in Masontown, Pennsylvania; a business in Middleton, Wisconsin; and a Rite Aid distribution center in Aberdeen, Maryland.
According to the Gun Violence Archive, there have been nearly as many mass shootings so far this year as there have been days. "There have been 262 American mass shootings (4+ shot or killed in the same incident, not including the shooter) in the 263 days of 2018," the Gun Violence Archive tweeted.
As with this event, the U.S. continues to lead the world in homicide rates due to gun violence.