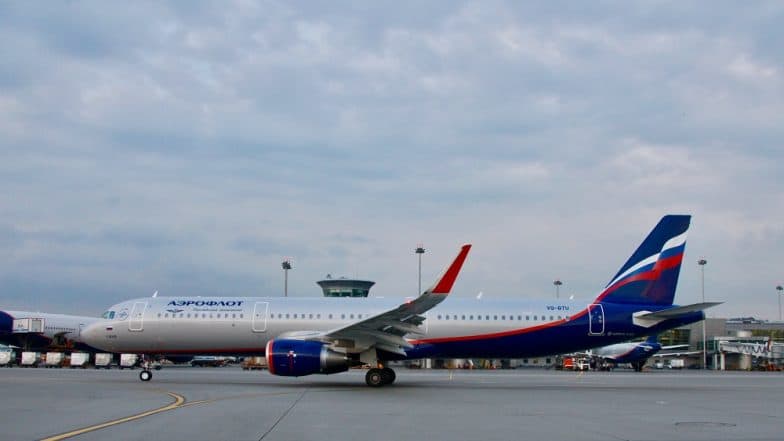 Moscow, January 22: A Moscow-bound plane from Surgut was forced to make an emergency landing in Khanty-Mansiysk town. The forced-landing was necessitated shortly after takeoff as a drunk passenger onboard attempted to hijack the flight and divert it to Afghanistan. The incident was reported on Tuesday, in a domestic flight operated by Aeroflot, the flagship carrier of Russia.
The cabin crew members had alerted the authorities in Moscow of the turbulent situation onboard. Responding to their alarm, the Russian Investigative Committee sent a team to Khanty-Mansiysk, where the rogue passenger was detained immediately after landing. IndiGo Flight 6E-451 Enroute Jaipur Faces Mid-Air Scare, Makes Emergency Landing in Lucknow.
The plane stood on the runway in Khanty-Mansiysk for more than an hour before law enforcement officials went onboard. The airport was evacuated and the area cordoned off.
According to the officials, no one was injured in the incident. The drunk passenger was easily taken into their custody by the Russian sleuths.
The investigators said the man has been identified as a Surgut resident who has a past conviction for property damage. He will now face charges of hijacking. An inquiry will also be conducted whether he had any motive behind diverting the flight to Afghanistan, or was merely acting in an inebriated condition.
(With agency inputs)