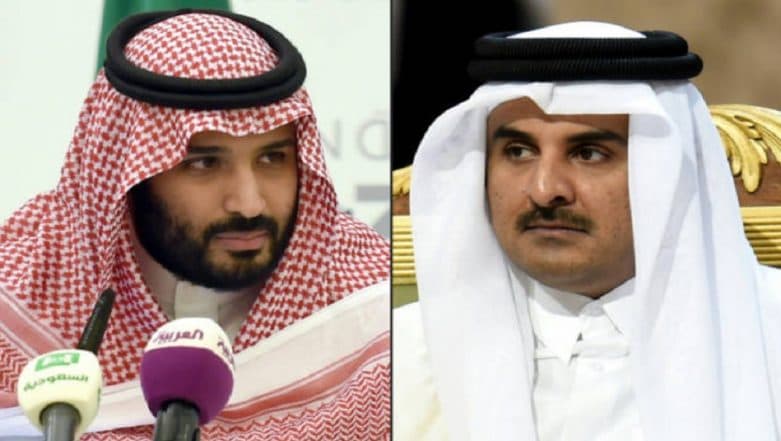 Qatar has launched an action at the World Trade Organisation in Geneva, accusing its neighbour Saudi Arabia of violating its intellectual property rights.
Qatar's economy ministry said in a statement on Monday that its representatives submitted a formal request at the WTO headquarters in Geneva, Switzerland, raising concerns over Saudi Arabia's diplomatic, political and economic measures against Doha.
"Saudi Arabia's actions represent not only a violation of Qatar's trade rights, but also affects the rights of other trading partners," Qatar's economy ministry said. "The new dispute focuses on violations with respect to protection of intellectual property rights in the kingdom," it added.
Part of Qatar's concerns involve the blocking of Qatari broadcaster beIN in Saudi Arabia, the ministry said on its website and accused Riyadh of refusing to take effective action against the pirating of beIN content in the kingdom by a channel called BeoutQ.
H E Sheikh Ahmed bin Jassim bin Mohammed Al-Thani, Minister of Economy and Commerce, stressed that Saudi Arabia's actions in terms of banning Qatari citizens and entities from exercising their basic rights to protect and defend their intellectual property rights before enforcement authorities in the Kingdom is a flagrant violation of Saudi international and moral obligations.
The Minister added that these violations reflect Saudi Arabia's failure to comply with its commitments in terms of protecting copyrights, radio and television broadcasting rights, and trademarks, among other rights, which has caused significant commercial losses for Qatari citizens and entities.
BeIN Media Group, a Qatar-based sports network that holds exclusive rights to broadcast all major international sports events to the MENA region, has claimed beoutQ is stealing its signal and broadcasting it as its own.
Saudi officials have not issued any response to the Qatari initiative and statement as yet.
It is the latest escalation in the ongoing Gulf diplomatic crisis, which began on June 5, 2017, when Saudi Arabia, along with the United Arab Emirates (UAE), Bahrain and Egypt severed diplomatic and trade ties with Qatar, imposing a sweeping embargo on the gas-rich nation.
The four countries, led by Riyadh have accused Qatar of having close ties to regional rival Iran and harbouring "terrorist groups" - allegations that Doha has repeatedly denied.