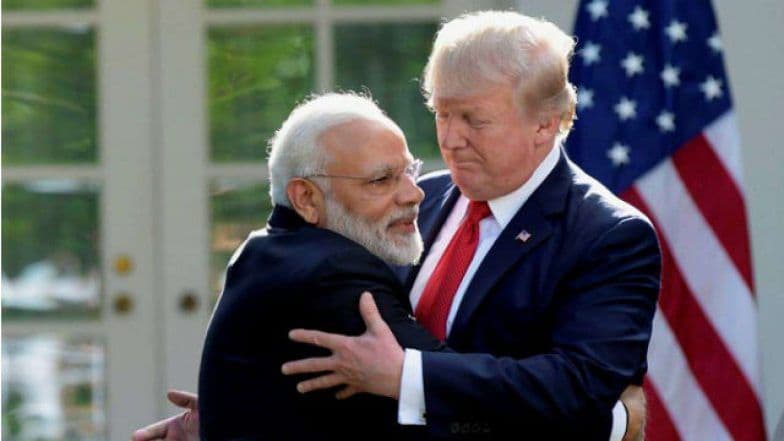 New Delhi, Septemeber 16: In a major boost to India-US ties, US President Donald Trump will be joining Prime Minister Narendra Modi at a mega event in Houston next Sunday, called "Howdy, Modi!". The September 22 event is the first event when these two world leaders will be addressing a joint rally. Amid speculation, if Trump will join the Indian premier at Houston event, the White House has announced that he will attend the rally. Howdy Modi! PM Narendra Modi to Address Indian-American Community Summit in US on September 22.
Notably, this would be the third meeting between PM Modi and Trump within a span of few weeks after the G20 and G7 summits. Over 50,000 Indian-Americans from the United States have registered for the mega event "Howdy, Modi! Shared Dreams, Bright Futures" at the Sprawling NRG Stadium. "Howdy", short for 'How do you do?', is a friendly greeting.
"The two leaders addressing the Howdy, Mody! event is historic and unprecedented. It reflects not only the closeness and comfort levels in the relationship but also the personal chemistry and friendship between Prime Minister Modi and President Trump," India's Ambassador to the US Harsh Vardhan Shringla said.
The gathering is "a great opportunity to emphasize the strong ties between the people of the United States and India, to reaffirm the strategic partnership between the world's oldest and largest democracies and to discuss ways to deepen their energy and trade relationship," the White House said in a statement.
The Houston event will be PM Modi's third major address to the Indian-American community after he became the Prime Minister in 2014. The other two were at New York's Madison Square Garden in 2014 and the Silicon Valley in 2016.